Next up in our series of best tattoos in the world for men we have the part of the body that does all the thinking. The head. Most people think of skulls when they think of head tattoos, basically a drawing of what under all that skin but the truth is the head tattoos are way more creative than that.
The con is you might have to shave your head to do one. The pro is you can do it on the side, and shave only a side of your hair, giving you a badass sick look.
With all that being said, let's take a look at the top 70 head tattoos for men!
Beast Head Tattoos
Beast tattoos never go out of style and more and more ways to show them off are being devised. One of those that is setting the trend is wearing them on your head. Many men and women who love rock shave their heads to replace their hair with a colorful tattoo that makes them look different.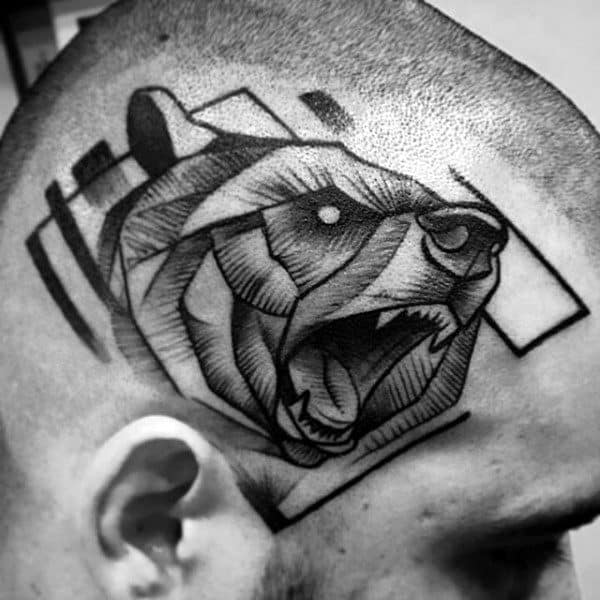 Geometry Inspired Head Tattoos
Geometry inspired is a style highly demanded by people of all ages and although it is extreme and scandalous, it supports any design and combination and is ideal for all sexes. It is a very original way to decorate your shaved head without having to wear a long hair.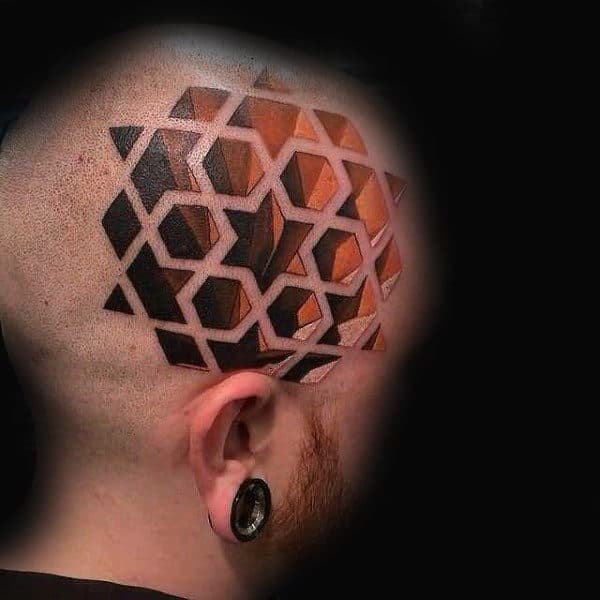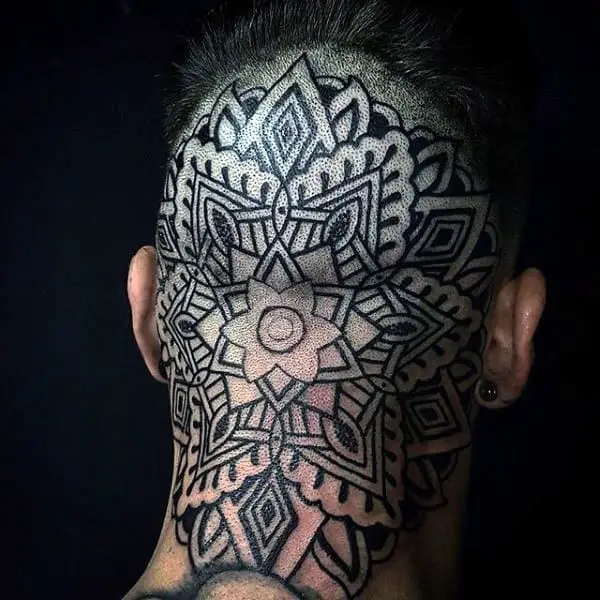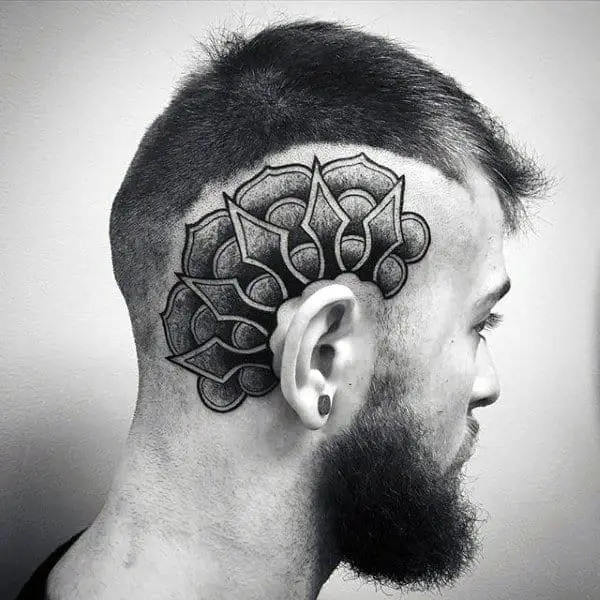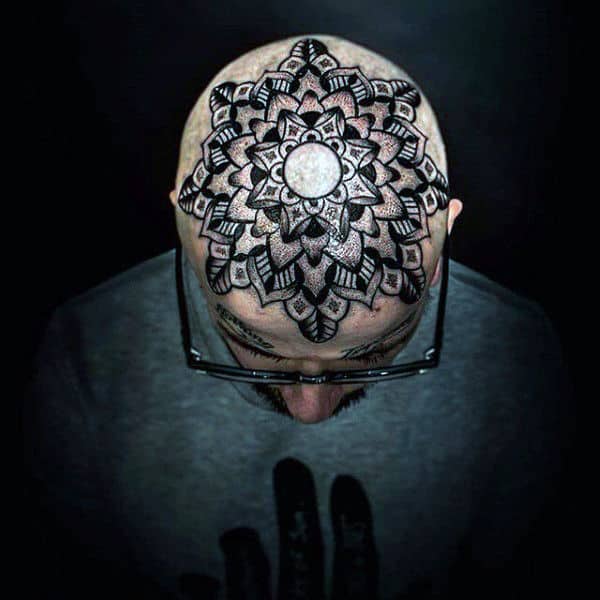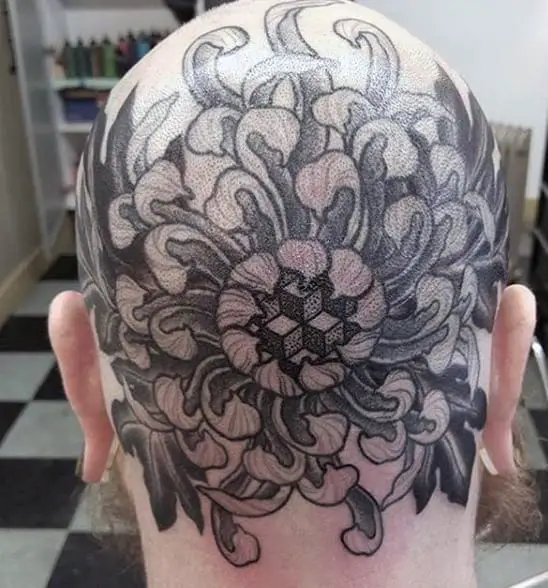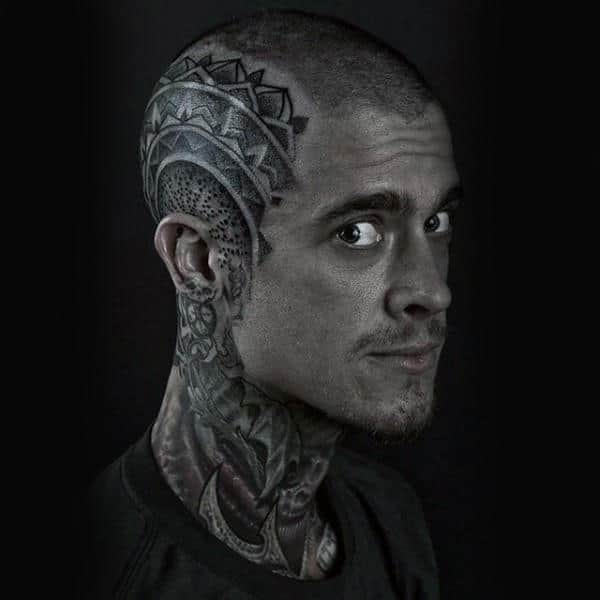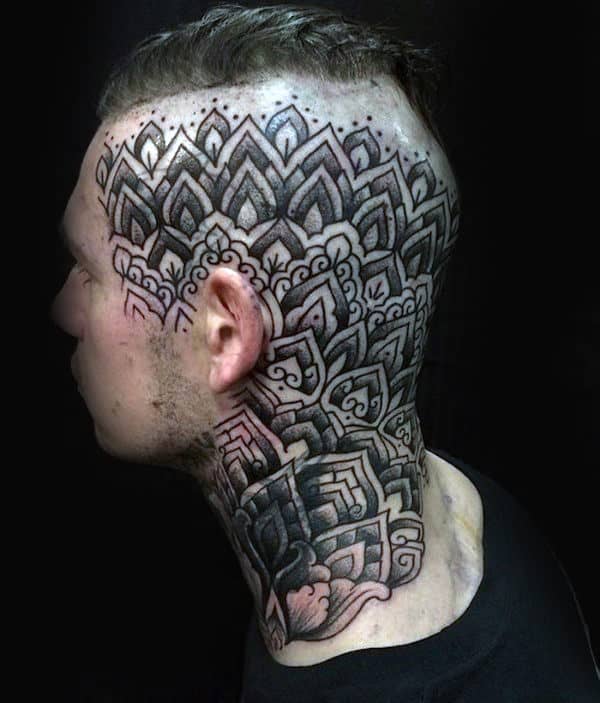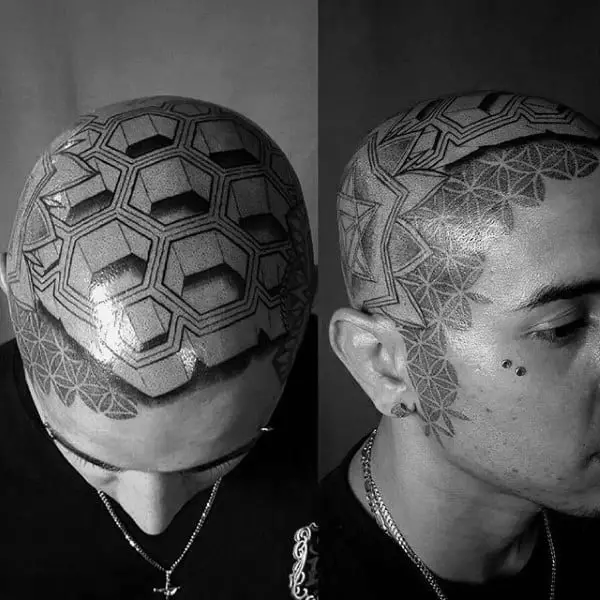 Creepy Head Tattoos
A spooky or creepy  tattoo on the head means that the person wearing it is a free-spirited person who is not afraid of taboos. A person who wants to be herself no matter what they say. The most common designs are skulls, flowers, mandalas, etc. But you can go much further and opt for other more original designs such as phrases, animals, faces, exotic figures, etc.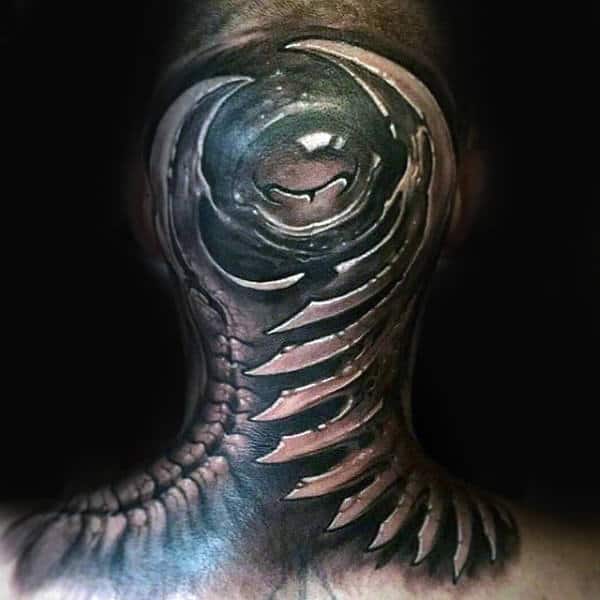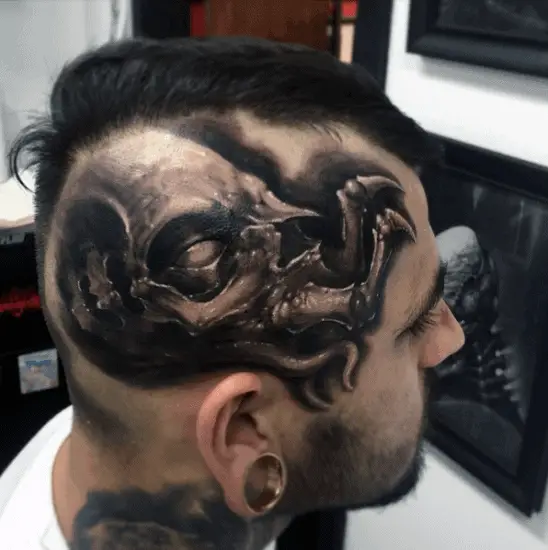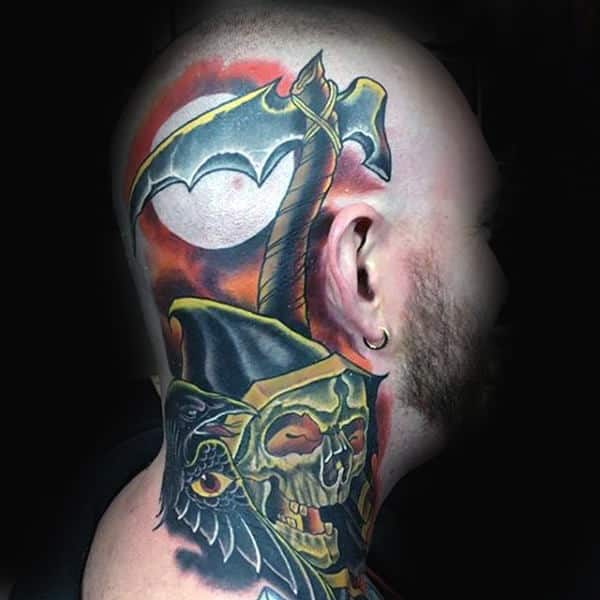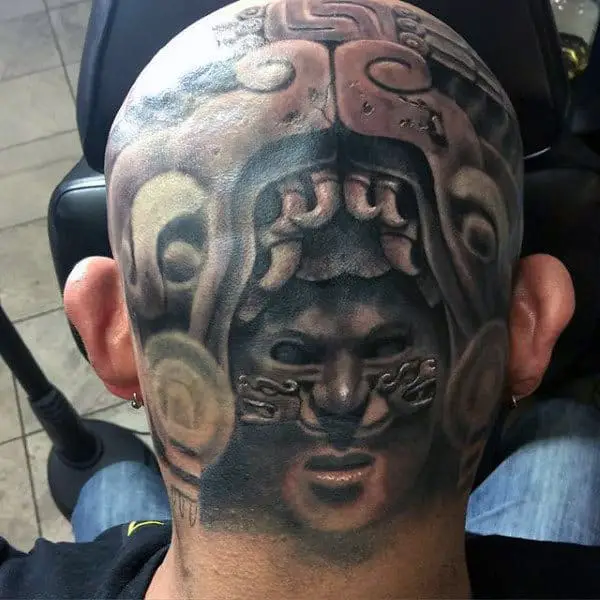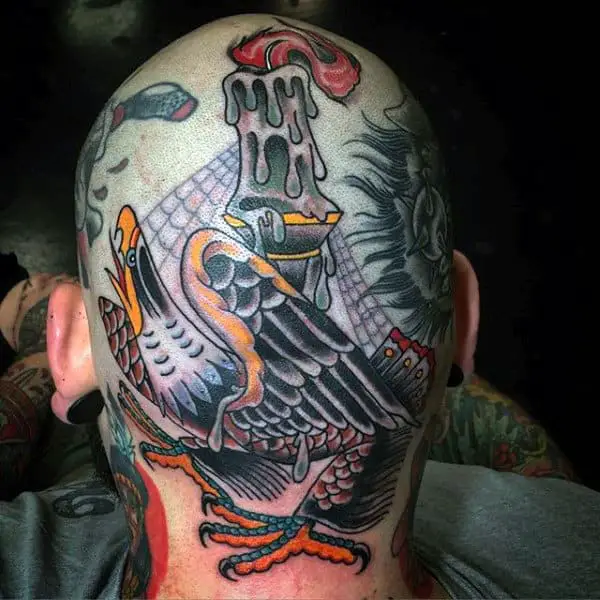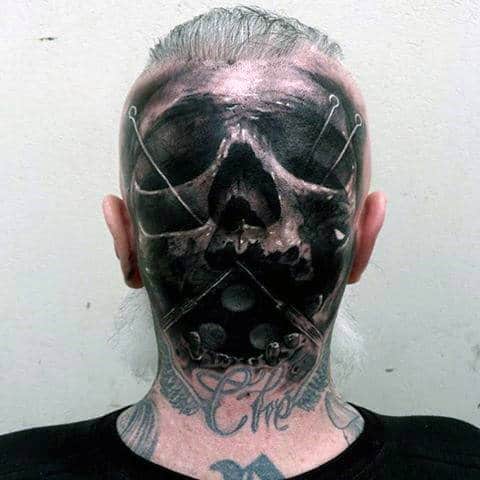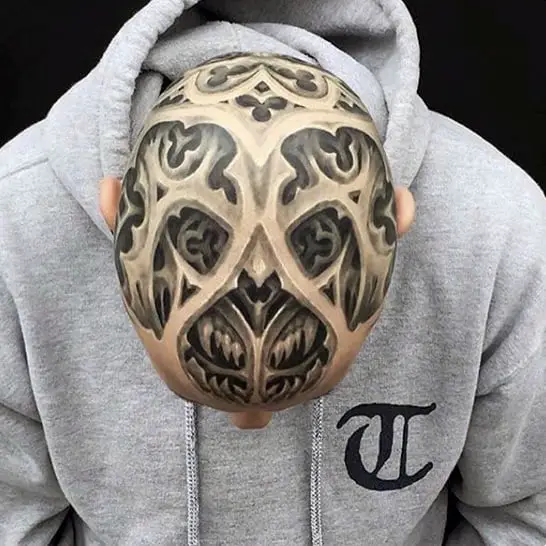 Dotwork Head Tattoos
Tattooing dotwork design on the head is one of the fashions of the moment. Both women and men of all ages decide to give up their hair to wear an original design on their head that makes them look different from others. Despite being for many a fatal fashion, it has become one of the most popular fashions even by people who lead a normal lifestyle.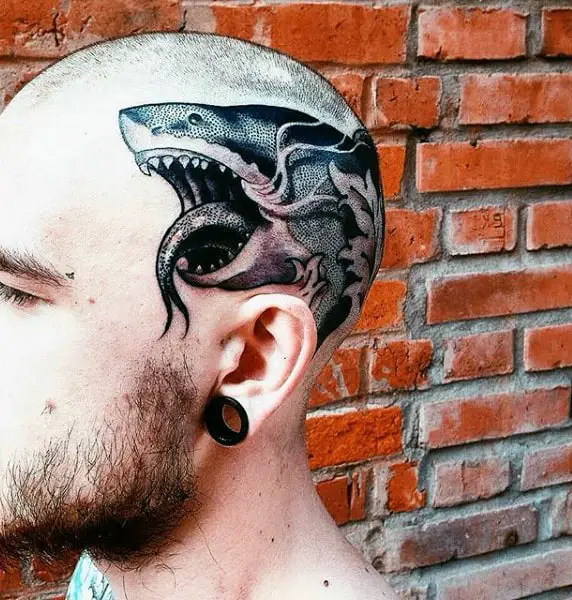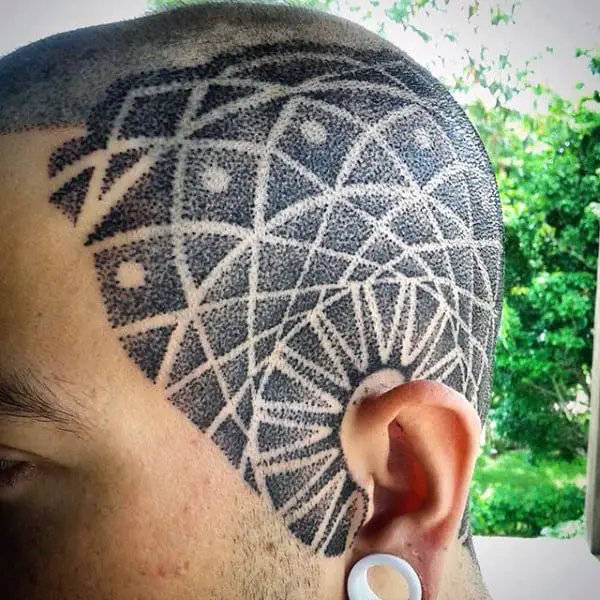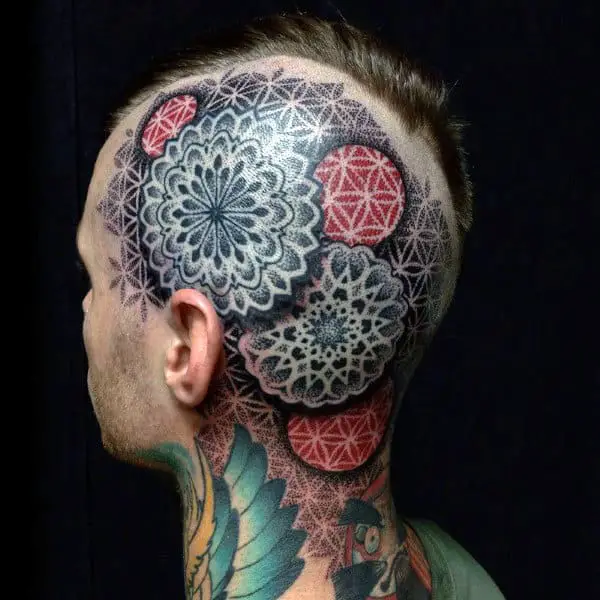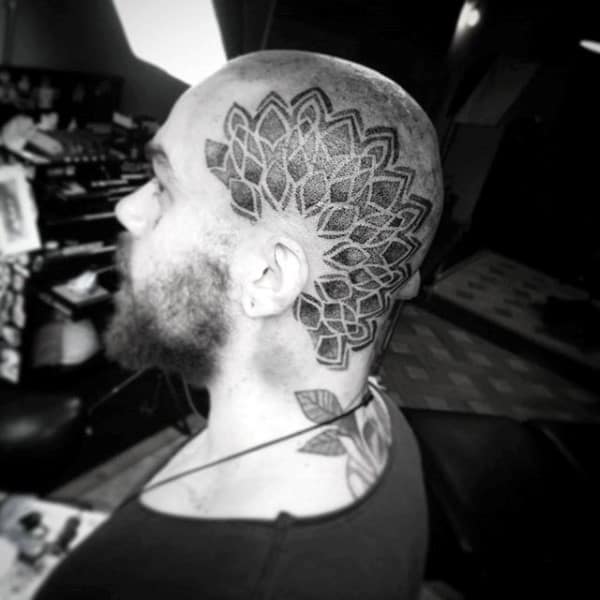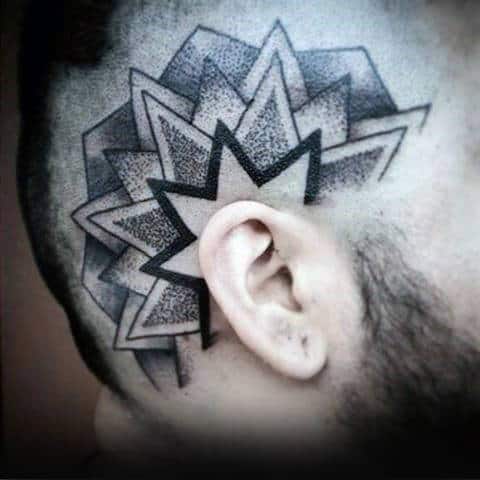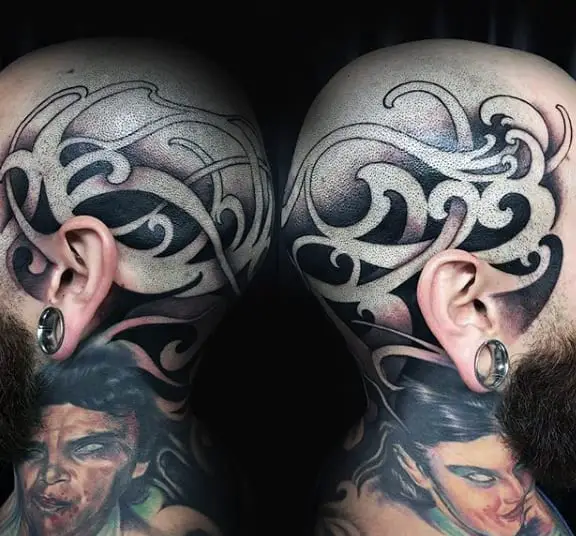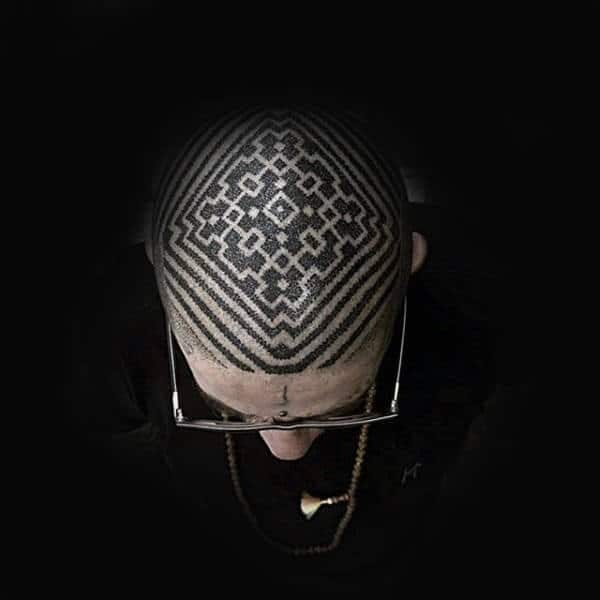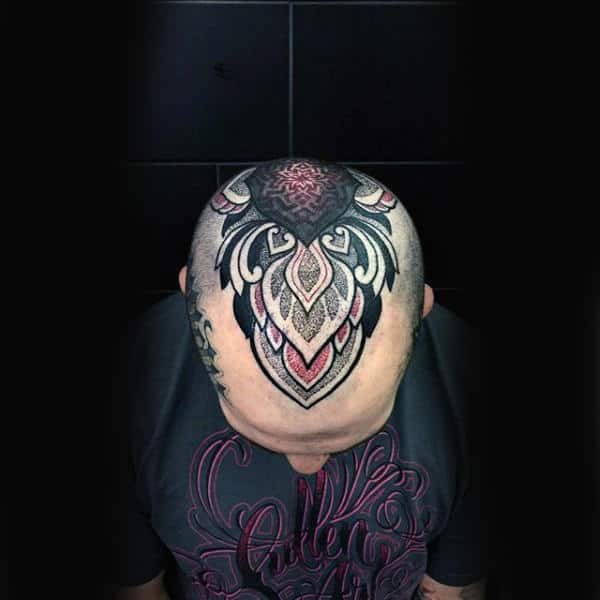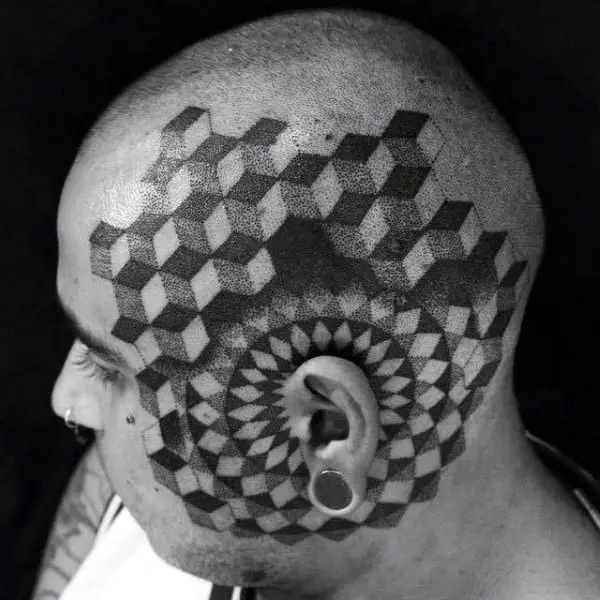 Partial and Small Head Tattoos
However, this may not be an ideal option for those who do not want to shave their head. In addition, this is one of the most delicate areas of the body, therefore it requires more care after the tattoo has been made. It is also an area where the tattoo does not last as long as on the arms or on the hips, as it is a part exposed to external factors. This is where partial or small head tattoos come in.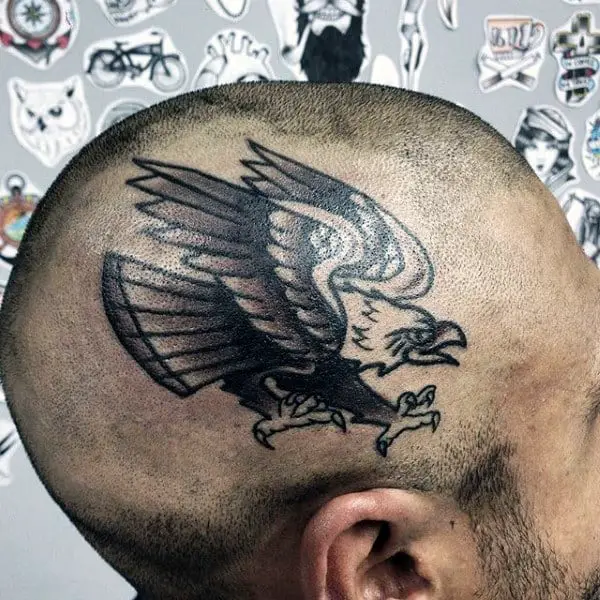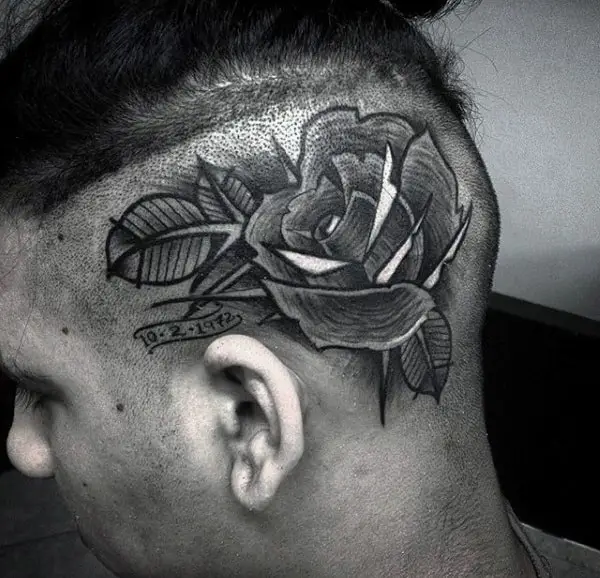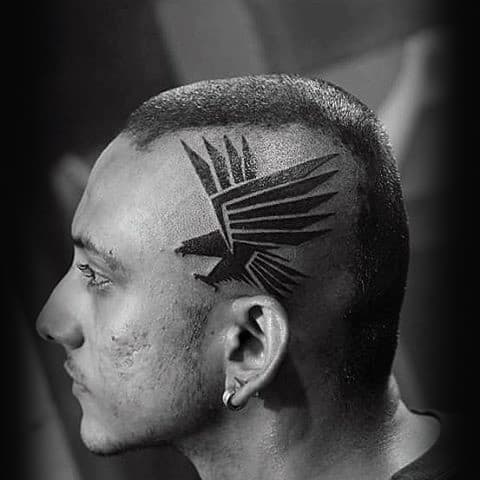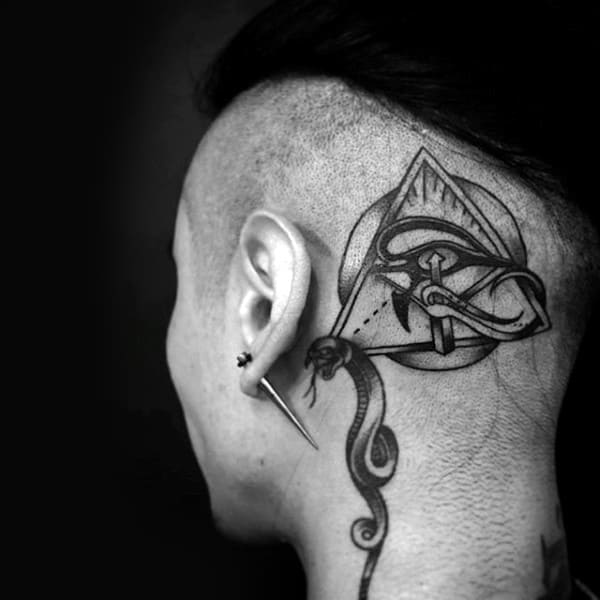 Caligraphy and Text Head Tattoos
After the calligraphy or text tattoo is done, you can decide whether to let your hair grow back, but keep in mind that it will cover your tattoo. You should not shave your head after finishing the tattoo. The scalp is very sensitive and the tattoo procedure can be very painful, so it is important that you apply creams and use sunscreen when going outside. Be very careful when washing your head, as with each wash the design can fade. But don't let this make you give up if you decided to get your head tattooed.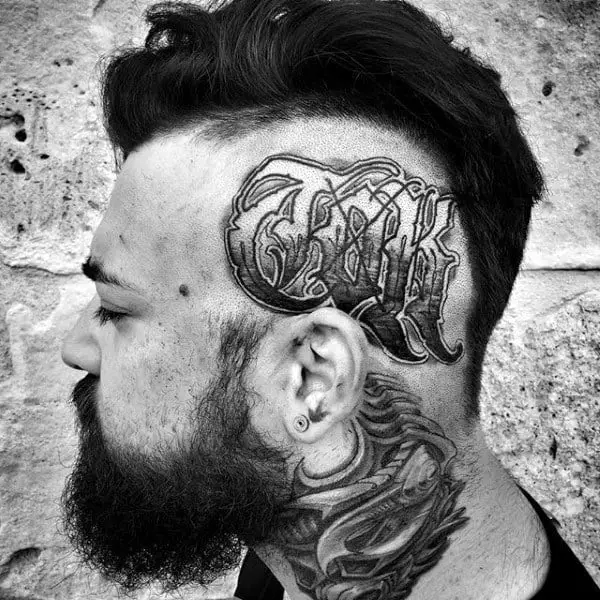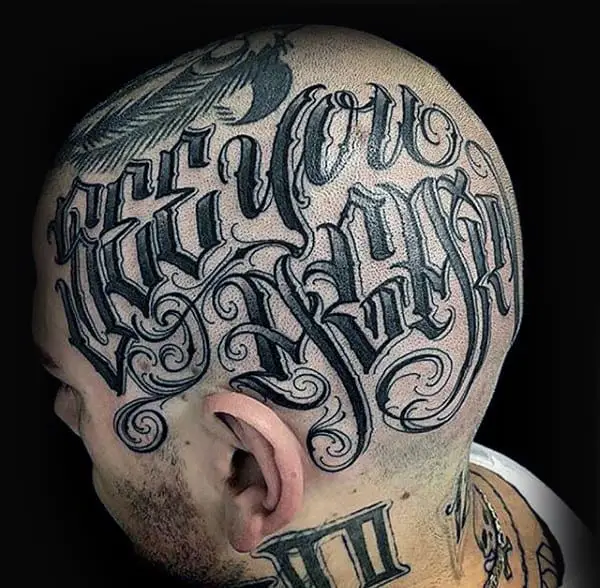 Color Head Tattoos
Having color in the head tattoos can make the piece stand out even more. Remember that sometimes not all colors work with individual skin tones. So it could be easily noticed if the colors are not chosen correctly as it will stand out. Traditional tattoos always look good in color!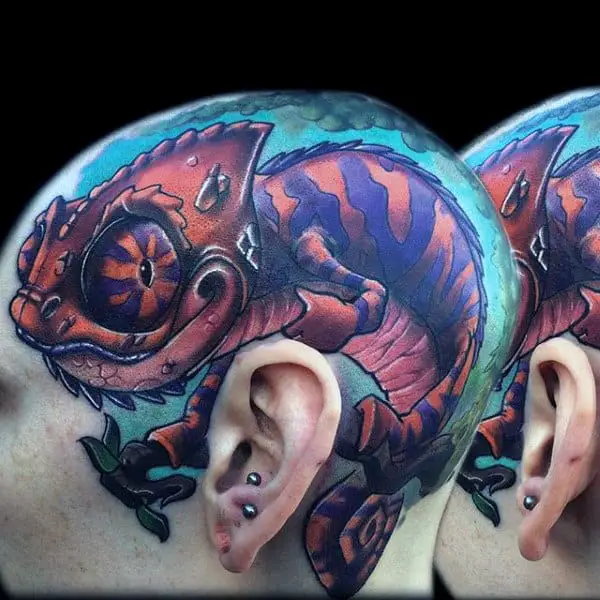 The designs of Head Tattoos are so exquisite and sophisticated, why not make full use of these designs? Especially when you are the owner of a tattoo shop, you can combine these designs with custom die cut stickers. Just upload these designs to customsticker.com online design system to make your own unique stickers. You can also add your shop names, logos, and other elements to the stickers. Give out these stickers to potential customers to let them know more about the head tattoos to help them make the final decisions. You can also stick them on the wall of your shop for design exhibitions and ideas expressed. With the branded information on the stickers, you can also improve your social awareness as well as promote our business in the market.
Head Tattoos FAQs
1. Are head tattoos dangerous?
A tattoo on the head is not suitable for novices. The tattoo on the head not being recommended to get as your first tattoo is common sense as it is a painful and especially complicated area. However, it is not dangerous.
2. Do head tattoos stop hair growth?
Like all tattoos, head tattoos do not prevent hair growth in any way. Before starting the tattoo, your hair will be shaved by the professional, but it will grow back as it does naturally.
3. What do head tattoos mean?
One thing people seem to forget is that head tattoos are some of the easiest to share if you're not naturally bald. Just don't cut your hair for a month or two and it's going to be perfectly concealed, ready to resurface with the first chance it gets.
4. How long does it take for a head tattoo to heal?
It generally takes from 7 to 14 days but it heavily depends on the skin type, part of the heads it's done on and the size.
5. Which are the most popular head tattoo designs?
Animal and Dotwork tattoo designs are definitely the most popular tattoo designs in recent years.
6. Do head tattoos make you itchy?
It may happen. Although it could be annoying, an itchy tattoo indicates that your skin is recovering naturally. You have to resist itching and avoid scratching during this stage, as doing so can end up damaging the colors or even the shape of your tattoo.
7. How much do head tattoos cost?
A head tattoo can cost anywhere from $200 to $2000. This changes depending on the size and difficulty of the design, and the quality and renown of the artist.