The Principality of Monaco is a city-state that has always been synonymous with luxury and beauty. Monte Carlo is one of the city's central districts, home to luxury stores, museums, and the famous Casino.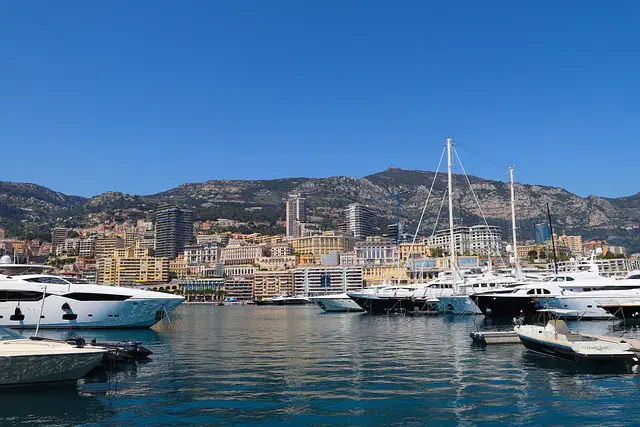 If you have decided to spend some time in this state that borders France and speaks a Ligurian dialect, you will not be disappointed: even just the views offered on the coast are worth the trip.
Even though the neighborhood is relatively small, there are many things to see!
So let's find out what to see in Monte Carlo, the best attractions, and things to do.
Grand Théâtre of Monte Carlo
The Grand Théâtre of Monte Carlo is part of the large Casino complex and is a miniature copy of the famous Paris Opera House. Stucco, gold decorations, lights, and a breathtaking stained glass window overlooking the blue Mediterranean Sea-an accurate representation of the Belle Epoque, whose support beams were designed by Gustave Eiffel, the engineer who became famous for building the iconic Eiffel Tower.
This theater has always hosted high-profile international artists and has been on the stage for some world premieres. To this day, it is the home of Les Ballets de Monte-Carlo and the Monte-Carlo Philharmonic Orchestra. The interior, unfortunately, cannot be visited unless you attend a performance.
Old Town
The Old Town of Monaco, or Monaco-Ville, stretches out at the foot of La Rocher and is an almost entirely pedestrian-only route with rich insights and history. Very well-kept and elegant, it has narrow streets filled with small stores and bakeries with very inviting store windows.
If you decide to stroll through the old town, don't forget to pass by Place Saint Nicolas, admire the Chapel of Mercy, and pass through the Condamine area, where the herb market always takes place in the morning. After that, you can go down to Port Hercule or visit the Moneghetti district, a riot of historic villas, greenery, and playgrounds.
Old Monaco is built around Port Hercule and includes significant exhibitions and attractions such as the Cathedral, the Oceanographic Museum, and the Prince's Palace. It is easily reached on foot from Monaco-Monte Carlo Station.
Monte Carlo Casino
Framed by the Carré d'Or and the Galerie des Allées Lumieres, the luxury shopping quadrangle and gallery, and fronted by a monumental fountain, the Casino is undoubtedly the symbol of Monte Carlo. It is housed within a magnificent chic Beaux-Arts style building, inside which there is a theater with ballet and incredible shows.
Thanks to the income from this world-renowned gambling hall, the Principality of Monaco can maintain such low taxes that it is considered a tax haven.
However, access to gambling halls is forbidden to Monegasques. Nevertheless, even if you are not a gambler, you can enter to visit the halls, a riot of marble, gold, and sculptures designed by the same architect who built the Paris Opera. Otherwise, if you like gambling, don't forget that because of the covid restrictions, the Casino still closes at 9.30 pm. So if you want to play, remember to arrive before that time.
If, on the other hand, you can't get there on time, the online casinos in Monaco are legal, so all you have to do is choose a safe casino with no deposit bonuses, free spins, or other online promotions to satisfy your thirst for gambling. Also, in this way, you can try out a new casino for free and with real money!
Oceanographic Museum
Inaugurated in 1910, the Oceanographic Museum, full name Musée Océanographique de Monaco, was founded at the behest of Prince Albert I, a sailor and oceanographer. They wanted to pass on his passion to as many people as possible.
The museum offers 6,500 square meters of space with more than 6,000 marine species-a natural attraction for children and adults alike! You can admire sharks, turtles, fish from the Mediterranean and the Tropics, and much more. Since 1989, a living coral reef has been developed inside the aquarium. Also, inside the museum is a collection of instruments that tell the story of the rise of oceanography.
Japanese Garden
The Japanese Garden is a communal garden in full Japanese style, which will be able to transport you to the pure Japanese atmosphere. A perfect harmony between forms and elements of nature, where water is the dominant thought, decorated with red bridges and water lilies, in full Zen style: a place of peace in which to regenerate.