Whiteout tattoos are a distinctive and bold form of tattooing that involves covering a significant portion of the skin with solid black ink. These tattoos have gained popularity for their unique and striking appearance and their ability to create dramatic and eye-catching designs.
In this article, we'll explore 20 of the best whiteout tattoos, each showcasing the creativity and skill of the tattoo artists and the individuality of the wearers.
Top 20 Whiteout Tattoo Designs
Here are the 20 best whiteout tattoos:
Crow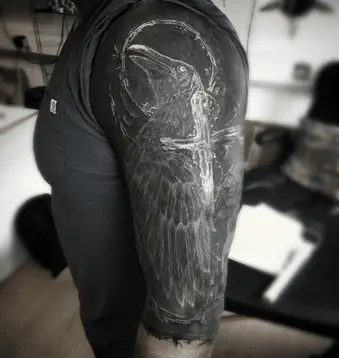 One of the most captivating aspects of whiteout tattoos is their ability to create intricate and detailed designs. With its feathers and intricate patterns, this crow tattoo showcases the artist's skill in creating stunning art using only negative space.
Floral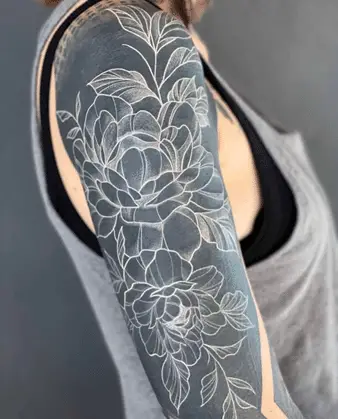 Whiteout tattoos can cover large areas of the skin and are commonly seen as sleeves. This example features a beautiful floral design that covers the entire arm, creating a visually stunning piece of body art.
Galactic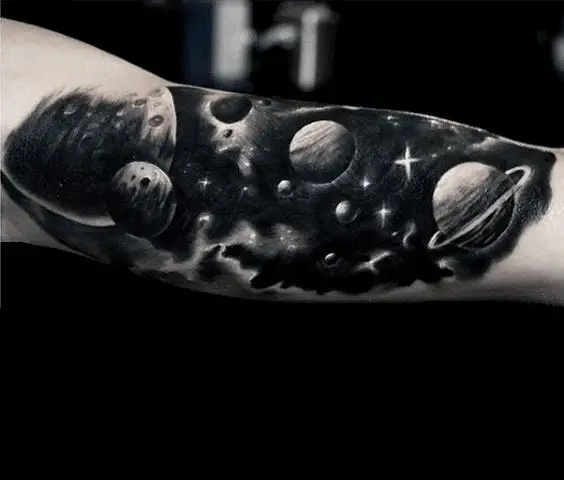 Whiteout tattoos are not limited to Earthly designs. This cosmic-themed tattoo features intricate depictions of stars, planets, and galaxies, creating a mesmerizing piece of art that transports the wearer to the depths of space.
Tribal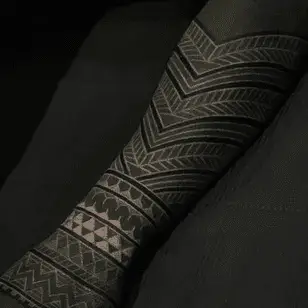 Tribal tattoos have been a staple of tattoo culture for centuries, and whiteout tattoos provide a modern twist on this classic style. Bold lines and negative space come together to create a tribal-inspired masterpiece.
Snake
​​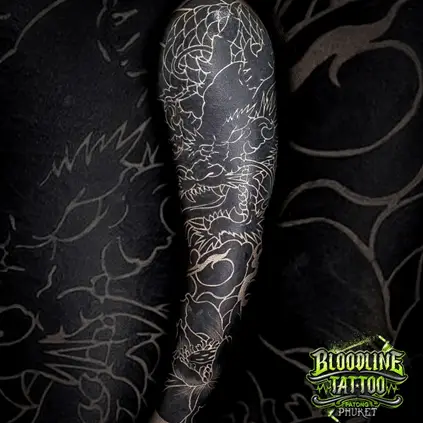 Whiteout tattoos can also incorporate elements of nature and wildlife. This beautiful snake tattoo showcases the beauty of these creatures while using negative space to add depth and dimension.
Abstract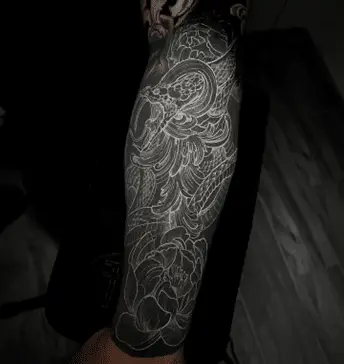 Some whiteout tattoos embrace abstract art, with bold strokes and shapes that create a sense of movement and emotion. This tattoo is a prime example of how whiteout tattoos can be a canvas for artistic expression.
Skeleton Skull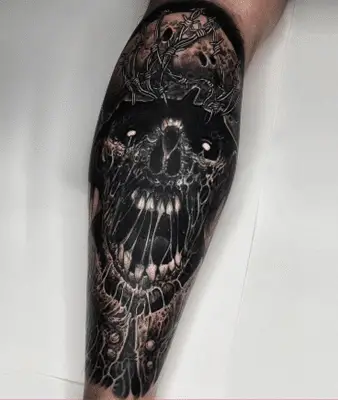 Incorporating dramatic symbols like a skeleton skull into whiteout tattoos can add layers of meaning and significance. This skull tattoo features intricate details within the negative space, symbolizing death and the afterlife.
Turtle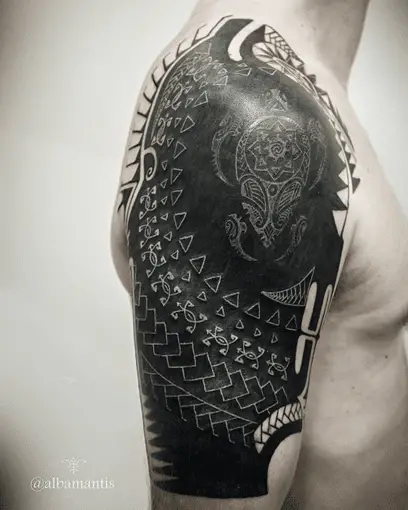 Combining tribal elements with other design elements can create unique and visually striking tattoos. This turtle tribal tattoo combines a turtle pattern with tribal details, creating an intricate and captivating piece.
Forest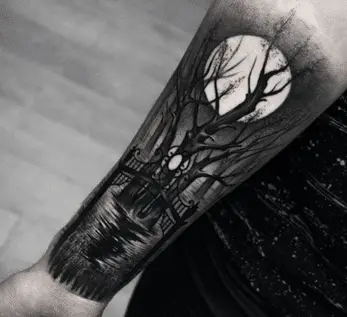 Nature-inspired whiteout tattoos, like this enchanting forest scene, capture the beauty of the natural world. The contrast between the black ink and the skin gives the tattoo a dreamy and otherworldly quality.
Dragon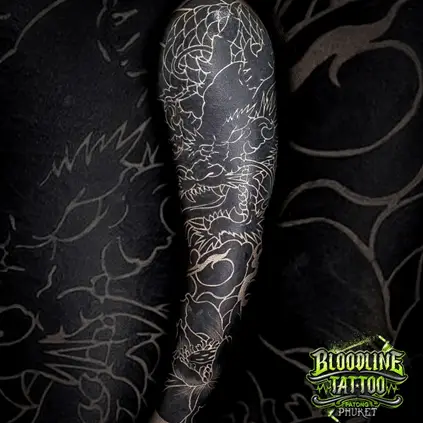 Dragons have long been a popular subject in tattoo art, and this whiteout dragon tattoo is nothing short of spectacular. The level of detail and shading achieved with negative space is truly remarkable.
Floral Abstraction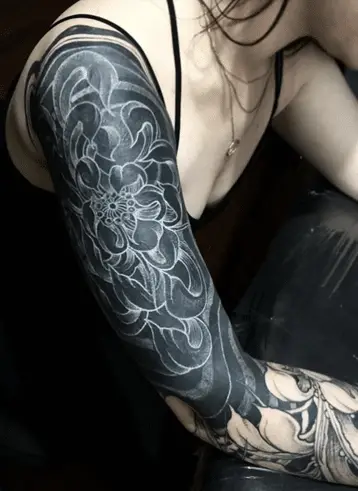 Image credit
Floral designs can take on a whole new dimension when rendered in a whiteout style. This abstract floral tattoo uses negative space to create depth and movement within the design.
Mandala
​​
Mandalas are intricate geometric designs often associated with spirituality and meditation. This whiteout mandala tattoo showcases the precision and skill of the artist in creating a mesmerizing and symmetrical pattern.
Celestial Beauty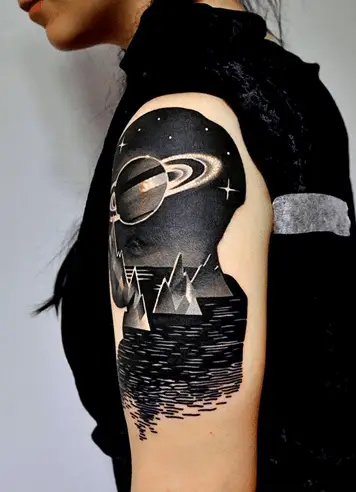 Whiteout tattoos can incorporate celestial elements like stars and planets. This celestial-themed tattoo features an intricate star map and celestial bodies, creating a sense of wonder and awe.
Eye
​​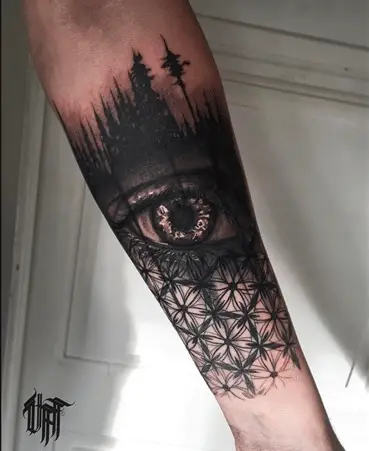 The all-seeing eye is a symbol of knowledge and wisdom. This whiteout tattoo takes the concept to a new level, using negative space to create a sense of depth and mystery.
Octopus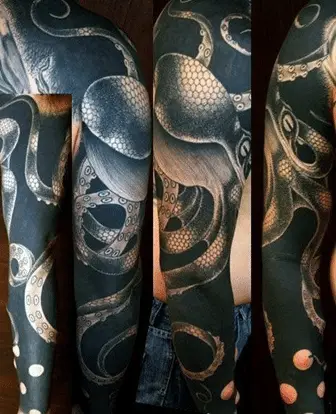 This whiteout octopus tattoo is a masterpiece of detail and creativity. The negative space allows the tentacles to appear as if they are floating, giving the tattoo a sense of motion and life.
Waves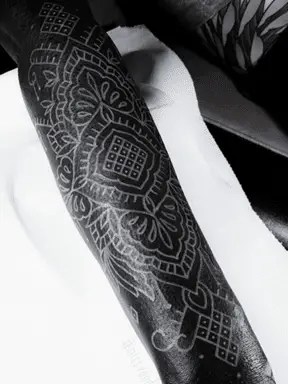 Waves are said to hold mythical meanings known for their representation of the change we experience through life. This whiteout tattoo captures the enigmatic quality of the wave while using negative space to add depth and intrigue.
Mandala Sleeve
Mandala tattoos are often characterized by their intricate patterns and symmetry. This whiteout mandala sleeve is a testament to the precision and skill of the artist, creating a mesmerizing and visually captivating design.
Wolf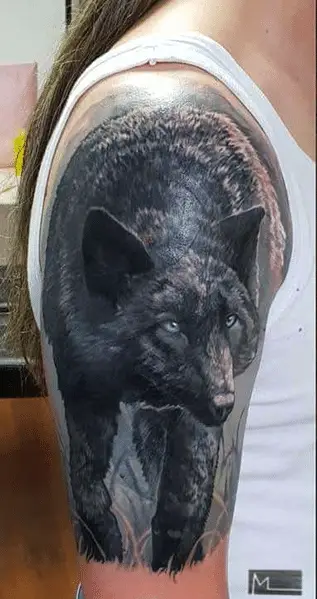 Wolves are often associated with strength and resilience. This abstract wolf tattoo uses negative space to create a sense of movement and energy within the design, making it a powerful and visually captivating piece.
Lotus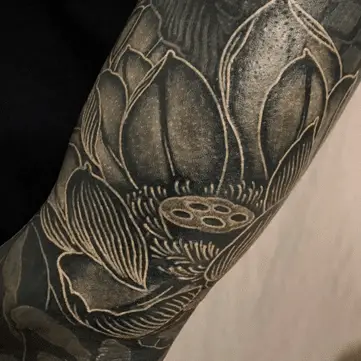 The lotus flower is a symbol of purity and enlightenment in many cultures. This whiteout lotus tattoo features intricate patterns and negative space, creating a visually stunning and spiritually meaningful design.
Castle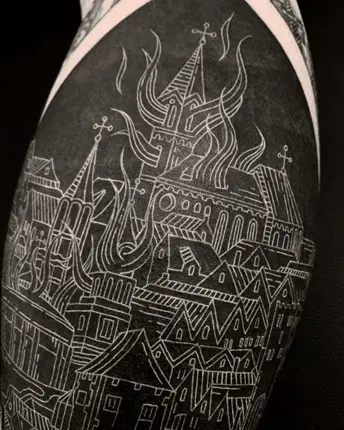 Castles have a sense of magic and wonder about them, and this whiteout castle tattoo captures that essence beautifully. The use of negative space adds an ethereal quality to the design, making it truly enchanting.
Wrapping Up
The whiteout tattoo technique is very complicated and often requires a few tattoo sessions to get the white ink to show up against the black ink. However, the process can result in beautiful and unique designs that can serve as fantastic cover ups or gorgeous tattoos on their own.