You might not spend too much time admiring the design of your favourite retail outlet while you're rushing around shopping.
But businesses are aware that architecture has an influential effect on mood that can convert to sales.
If you've got the wherewithal to build a commercial property from scratch, you can tweak every last aspect of your design so it's primed for effective experiential retail.
But there are also ways to adapt existing architectural features so that they blend form and function fantastically.
Here are three of the best examples of British commercial architecture to provide some inspiration.
Selfridge's Oxford Street
Selfridge's beautiful Beaux Arts exterior has graced London's Oxford Street since 1909.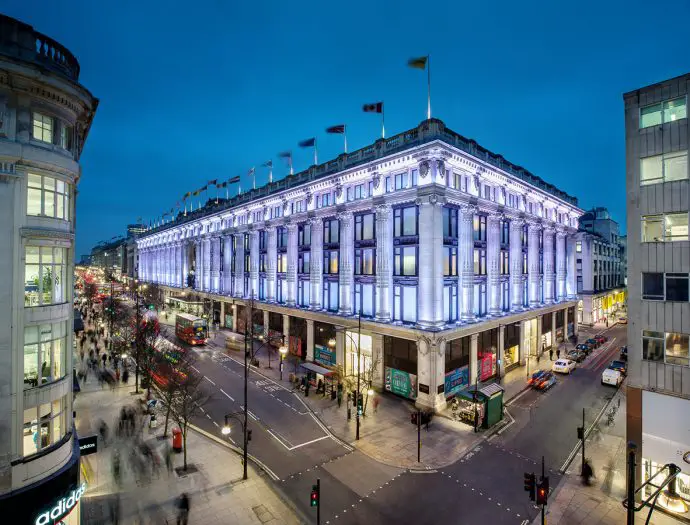 And Harry Gordon Selfridge understood from the beginning that shopping should be a social experience that transcended commercial transactions.
Shoppers and tourists alike are still drawn to the building's impressive exterior, and legendary lively window displays convince them to step through the doors straight into the hands of persuasive sales staff.
The shop is the only one of its peers to be named the world's best department store three times — proving that classics never go out of fashion.
Clerkenwell Grind
Designers across the UK have reclaimed industrial warehouses for conversion to high-end accommodation and designer shops for some time.
And that's just what Melbourne-based outfit Biasol did with this trendy London restaurant.
The exterior of the 19th century listed warehouse remains intact, adding to the attraction for customers charmed by industrial chic.
But the interior belongs to a different era entirely — its brass mirrors and velvet sofas are reminiscent of a prohibition-era speakeasy.
This adaptation proves that a flexible design can make the most of an interior space when planning restrictions limit exterior alteration options.
So a converted industrial unit might be a good option for anyone prepared to use creativity and bold branding to gain a competitive edge.
Boxpark
Resourceful retailers based near ports have a long history of converting shipping containers for commercial use.
Colourful container shops are especially prevalent in developing nations, where their fantastic functionality suits businesses like community stores and takeaway barbecues.
But the Boxpark outlets in London's Shoreditch and Croydon proudly proclaim themselves as the world's first pop-up malls.
And trendy tenants include shops, bars, restaurants and children's play areas from an interesting blend of local and global brands.
Basic units can easily be converted and customised to suit any business and the quirky ambience attracts customers attracted to the ethos of recycling and repurposing.
If you want to bring your architectural vision alive in the ideal location, an online registry like Shop Property is a decent starting point.
These three examples of Britain's best commercial architecture should get your drawing board brimming with ideas.
What's your favourite British shop design and why? Share your stories in the comments section.