Out of all the rooms in a home, the living room may be the most important one. In fact, if you live in a tiny space or a studio apartment, the living room may make up most of your home.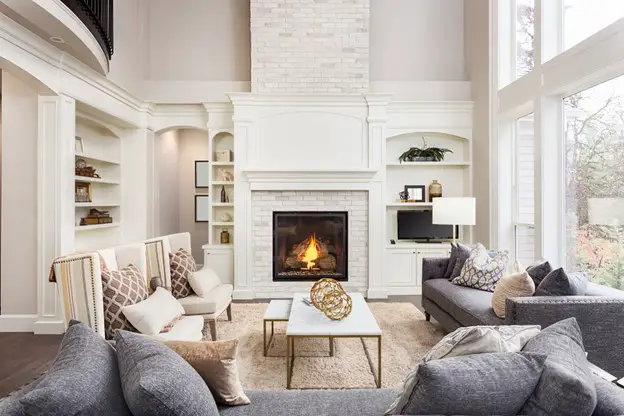 What makes the living room so special? It's generally a place where you can kick back, unwind, and watch TV or read a book. Alternatively, when guests come over, the living room is usually the place where you all sit and socialize.
With that being said, it's only natural to want a perfect living room. However, achieving the look that's in your head may be easier said than done. To help you create the living room of your dreams, we've compiled these four important tips.
Tip #1: Define Your Style
Before you start purchasing furniture and other items for your living room, it's important that you define what you want the end result to look like. That's not to say that you need to have every last detail planned out, but you should have a general idea of what you want.
Beautiful living rooms typically have some sense of cohesion — the different items in the room work together to create a certain atmosphere. If you start putting together your living room with no plan in mind, just impulsively buying whatever items you think look nice, then you might very well end up with an ugly patchwork of stuff that's a headache to look at.
Picking a particular interior design style is one way to help guide your decorative choices. Do you prefer a home that feels traditional or modern? A room with a rustic style or a contemporary one? Something that leans toward minimalist or maximalist? If you're not sure what interior design style suits you, just do a little research. There are all kinds of simple interior design guides online, as well as photos that you can draw inspiration from.
Tip #2: Invest in High-Quality Staple Pieces
The staple pieces are the items that virtually every living room has. Things like couches, coffee tables, end tables, and perhaps an extra chair or two are great examples of staple pieces. They take up a lot of the room's space and draw the most attention. They also tend to be the most functional items in the room, the things you'll be using on a day-to-day basis.
Since these staple items play such a big role in defining your living room, it's important to get high-quality pieces that you love. If there's anything in your living room that you should spend real money on, it's your staple pieces.
For starters, purchase a comfortable couch from a reputable furniture brand. For instance, you could pair a Lane sofa with a Takhat wood coffee table to achieve a classic look. If that's not your style and you want to go with a more contemporary look, then you might consider getting a modern sectional sofa and a sleek glass coffee table instead.
Whatever staple pieces you end up choosing, just make sure they're from an established brand with a reputation for quality — that way, your furniture will last a long time and you'll get a good amount of value out of it.
Tip #3: Pay Attention to the Details
While staple pieces are likely going to be the most noticeable part of your living room, the little details and personal touches you add will be what pulls the room together. Through your living room's details, you'll be able to let your own personality shine and make the space unique.
Picking a general style — such as traditional or mid-century modern — will help guide your choices for the room, but you'll be able to make it your own by focusing on the little things. For example, throw pillows are a great way to add both comfort and flavor to any living room. Pick up a few brightly colored throw pillows to give a room with a neutral color scheme some character.
Other small items that can make your living room pop include:
Glassybaby candles
Area rugs
Table lamps
Decorative vases
Wall art
Tip #4: Freshen Up the Space with Greenery
Bringing in some live plants from Lively Root is a fantastic way to brighten up any room, so try decorating your living room with potted plants or fresh flowers. In addition to smelling great and adding a splash of color to the space, they can serve a functional purpose as well. Several studies have shown that plants can actually improve concentration, boost productivity, reduce stress, and promote a positive mood. Who wouldn't want that?
It can be overwhelming trying to design a living room from scratch. But these tips should make the process a little easier. Now that you have the tools you need, start doing some research and make the living room of your dreams a reality!