"Wembley stadium" (CC BY-SA 2.0) by Ganesh K B
Sports tourism is alive and well and nowhere more so than in England's capital, London. The UK's biggest city has always attracted visitors aplenty but just scratch the surface and you'll see there's plenty to do for sports lovers.
London is home to some of the most famous and memorable sporting theaters on the planet. There's even an international appeal to the sporting events on offer in the stadiums and other places there.
In light of that, we take a look here at five iconic sporting venues you can visit in London, what you can see there and when.
Wembley Stadium
The home of soccer or what Brits call football, Wembley, is in North London but hosts much more than just the beautiful game under its arch. Boxing bouts, rugby league matches and even NFL games are staged at this iconic landmark.


"Wembley Stadium, August 2012" (CC BY 2.0) by londonfilmgeek
Reopened in 2007, it cost over UK £1,000,000,000 to rebuild from scratch. The twin towers of the old Wembley are in image ingrained in many older sports fans' minds, but the 440 foot high Wembley Arch is just as memorable and sits atop the second-largest all-seater stadium in Europe.
With a capacity of 90,000 for soccer, England's next home game is against the United States on Thursday, November 15 in an international friendly. The Three Lions are in action again with a UEFA Nations League fixture against Croatia – the team that knocked them out the World Cup in the semi-finals in Russia this summer – four days later.
Prior to the soccer, however, you can see three NFL matches on consecutive Sundays in October. Seattle Seahawks at Oakland Raiders (October 14, kickoff 6pm BST), Tennessee Titans at LA Chargers (October 21, kickoff 2:30pm BST) and Philadelphia Eagles at Jacksonville Jaguars (October 28, kickoff 1:30pm GMT) are the three Wembley matches in the NFL International Series for 2018.
Boxing's unified heavyweight champion Anthony Joshua (holder of the WBA, IBF and IBO belts) is having his next two fights at Wembley. The Greater London native defends his titles against Russia's Alexander Povetkin on the night of Saturday, September 22 and is a hot betting favorite to retain the gold with Oddschecker listing promotions from bookmakers like Unibet that can be used on AJ winning the bout.
Twickenham Stadium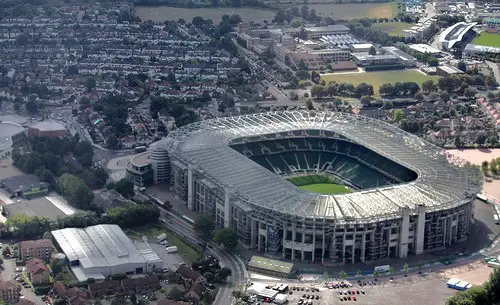 "Twickenham Stadium" (CC BY-ND 2.0) by Live4Soccer68
If Wembley is the home of soccer, then Twickenham in southwest London is likewise for rugby union. It's owned by the sport's governing body, the Rugby Football Union and has hosted two Rugby World Cup finals in 1991 and again in 2015.
With a capacity of about 82,000, Twickenham first opened in 1909 (but has been redeveloped many times since) and also has the World Rugby Museum attached to it, so sports fans can step back into history. The London leg of the World Rugby Sevens Series for both men and women is also played here, alongside the Aviva Premiership Grand Final every May.
NFL matches have also been played here in 2016 and 2017, which, given the similar shape between an American football and a rugby ball, only seems fitting. If you fancy a peek at union, then England play all their home games here and will host several Southern Hemisphere sides during the autumn internationals.
One year out from the next Rugby World Cup finals in Japan, the Red Rose host South Africa on Saturday, November 3 seeking revenge for their 2-1 Test series defeat to the Springboks in the rainbow nation this summer.
The following week sees rugby union's top nation, New Zealand, in London, then England welcome the Rugby World Cup hosts themselves to Twickenham before a fourth and final encounter with Australia – having whitewashed the Wallabies on tour Down Under in 2016 – on November 24.
The O2 Arena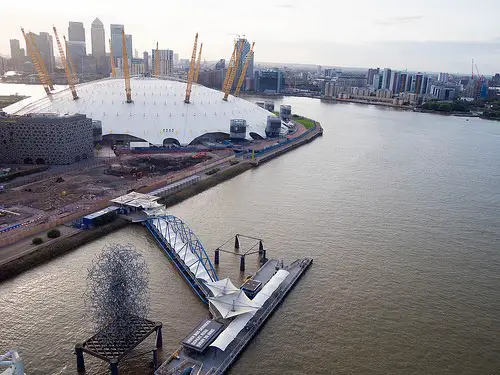 "The O2 Arena" (CC BY 2.0) by chas679
Now we come to a sporting venue that wasn't custom-made for sport like Wembley or Twickenham, the former Millennium Dome. This was an exhibition center built on the Greenwich Peninsula that juts out into the River Thames – around which London sprung up and expanded outwards from over the centuries – that was soon to be repackaged as a place where indoor events could be held.
Having served its initial purpose to welcome the dawn of a new millennium, but not before featuring heavily in the opening chase sequence of the 1999 James Bond film The World Is Not Enough, it was reopened in 2007 as a multi-purpose site including a 20,000 capacity indoor arena.
The O2 is currently home to the ATP World Tour Finals for men's professional tennis. First hosting the annual end of season tournament in 2009, the current deal ends in 2020 and many of the racket sport's modern greats have graced this event.
Injury permitting, we'll see the likes of Grand Slam legend Roger Federer, the king of clay Rafael Nadal and Novak Djokovic during this year's ATP World Tour Finals at the O2. There's also a doubles tournament at the event besides eight top singles between November 11 and 18.
Lord's Cricket Ground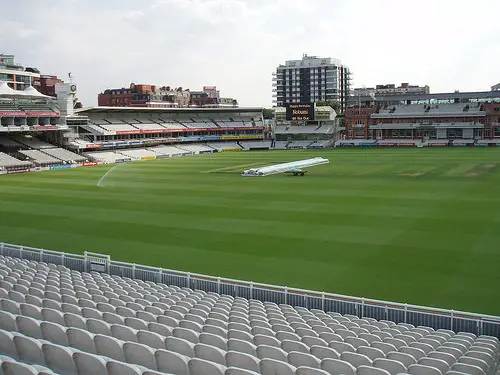 "View over Lord's pitch" (CC BY 2.0) by markhillary
There's something quintessentially English about the game of cricket. This sport requires skill, patience and judgment to play and the spiritual home of a leather ball hitting willow bats is Lord's in the St John's Wood area of worthwest London.
Owned by the Marylebone Cricket Club (MCC), the England and Wales Cricket Board (ECB) are always guaranteed to play some of their international Tests and limited-overs matches here. Opened in 1814, Lord's is also the site of the world's oldest sporting museum – the MCC Musuem.
In 2019, Lord's will host its fifth ICC Cricket World Cup final on Sunday, July 14. This is a 50 overs a side tournament, better known as one-day internationals (ODIs) where England tackle many of their former colonies including the likes of Australia, India, New Zealand, South Africa and the West Indies.
Alexandra Palace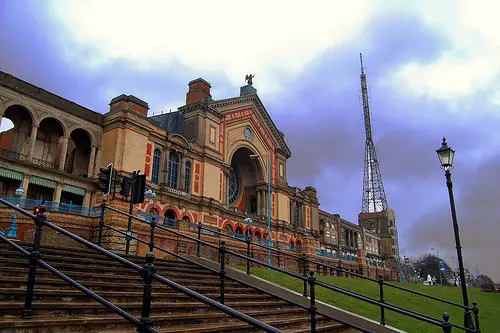 "Alexandra Palace" (CC BY 2.0) by Dun.can
And finally, Alexandra Palace opened in 1873 in the Muswell Hill area of north London for the purpose of public entertainment and recreation. Built with the aim of emulating the Crystal Palace south of the Thames, which later became a site for track-and-field athletics before the building of the Olympic Stadium in Stratford, Ally Pally, as it often abbreviated to, has become home to some more niche sporting pursuits in recent years.
In this sphere, it is heavily used in the winter months as the home of the PDC World Darts Championship since 2008. Don't think of darts as merely an English pub sport, as it requires real skill and precision. This year's event gets underway on Thursday, 13 December and – with a brief break for Christmas – finishes with the final taking place on New Year's Day.
Alexandra Palace is also where the Masters snooker is held every January. This is the most prestigious non-ranking tournament in the green baize sport and is the home event of break-building genius Ronnie O'Sullivan. You can see the 16-man single elimination competition from January 13-20 2019.