Big wins happen all the time. A lot of developed countries have national lotteries, as well as privately run lotteries. Then, there are casinos, many of which now have games linked across several locations to provide bigger progressive jackpots – even online casinos progressive jackpots are growing in size.
Despite all of these common forms of gambling, it's not just the size of the prizes that can be amazing. Sometimes it's the unbelievable odds or the circumstances surrounding the bet. Here we take a look at 5 wins, each of which is special for its own specific reasons.
The Brave One
Brian Zembic made a bet with his friend for $100,000. To win the bet he had to have breast implant surgery and keep the implants for a full year. While this might sound like a silly bet made between friends who had possibly had a bit too much to drink, Brian took the bet completely seriously. He went ahead and got 38C breast implants, and kept them for a full year. We're not sure if he had them removed after collecting on the bet or if he kept his new implants.
'breast implant' – Spitalier Philippe via Flickr (CC BY-SA 2.0)
The Tech One
The variety of online casino games available is constantly growing and the ways you can play slot machine games is evolving too. You can now choose from mobile slots, 3 or 5 reel online slots, video themed and progressive slots, as well as some with a staggering 243 paylines. The lucky man who benefited from the online slots this time remains unnamed, but we know he's in his 40s and lives in Finland. He placed a 25 cents bet on a progressive slot machine and instantly won the $24 million jackpot. Needless to say, the man was overjoyed with the win.
The Dreamer
We all have dreams our children will go on to achieve great things. Many of us may even project our own dreams onto them. Pete Edwards was no different, he placed a bet his 3-year old grandson would play for the Welsh national Football team. His grandson, Harry Wilson, made his debut in October 2013 as a 16-year old, netting his granddad £125,000 in the process. We're not sure what motivated Pete to place this bet, but it paid off.
The Big One
This might not be the most extraordinary story, but it gets a mention for its sheer scale. Mavis Wanczyck had spent her last 32 years working in a medical centre in Massachusetts, but one lottery win would change her life forever. She became the recipient of the largest single payout in North America, $758,700,000. Needless to say, Mavis quit her job very quickly, then said she felt scared and was going to hide under her bed to give it time to sink in. We're not sure if she's come out yet, but we strongly suspect she didn't stay hidden for long.
Canada's Big One
While Canada's biggest lottery winner might not be in the same league as Mavis Wanczyck mentioned above, it's still a pretty impressive amount. Not many of us would turn our noses up at the $64,000,000 won by Zhe Wang from Mississauga. Her win in October 2015 just surpassed the previous record jackpot of $63,400,000, which was shared between four ticket holders in April 2013. We're not sure what Zhe did after her Lotto 6/49 win, but we wish her all the best.
The Unbelievable
Patricia Demauro had only ever played craps once in her life. However, when she visited Atlantic City in 2009 she decided to give it another go. She bought into a game for $10, so the stakes weren't exactly high. What nobody could foresee is that Patricia would take beginners look to a whole new level. She threw an unbelievable 154 consecutive winning throws. The total amount of her winnings was never disclosed, but we imagine she got a decent return on her $10 dollar buy-in.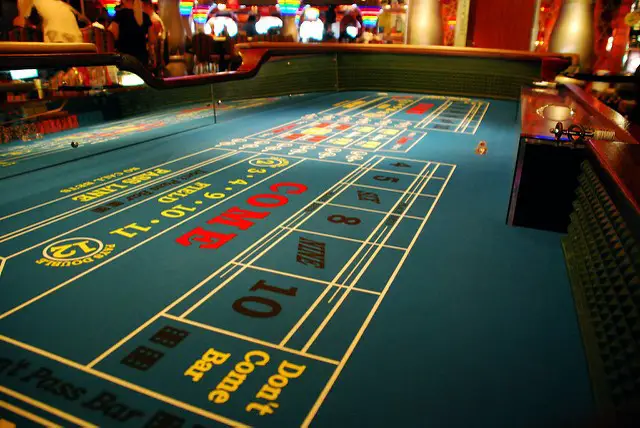 'Craps table' – Lisa Brewster via Flickr (CC BY-SA 2.0)
The history of gambling is littered with stories of extreme wins against all odds. They provide regular gamblers with the hope the next one could be them. Whether it was the 5000 to 1 odds of Leicester City winning the Premier League in the UK, or the lucky punter who bet £19 on the horses and won a staggering £823,000. For many of us it will remain a pipe dream, but that won't stop us dreaming.