Everybody loves to go on holiday and we all have a different vision for our ideal getaway. You may love to hit the tables at a local casino but it might not be everybody's idea of a good time. Bearing this in mind, we've compiled a list of five places to go on holiday that will keep everyone happy.
Romantic destinations
If it's just you and your significant other travelling, then you need a destination that will cater to your needs as a couple as well as allowing you to spend a little time hitting the tables. Here are a couple of places we think will tick all the boxes.
Monte Carlo
If you're looking for a destination that's a bit special, then they don't come any better than Monte Carlo. This Mediterranean tax haven is equally attractive to both tourists and billionaires. From the excellent climate and mega yachts to the opulence and celebrities, there's a lot that makes a trip to Monaco special. The Casino de Monte Carlo provides one of the most iconic gambling experiences on the planet; you'll feel a little like James Bond just walking in. Monaco is also near the French Riviera, with cities like Cannes easily within reach.
'The Casino, Monaco' – Berit Watkin via Flickr (CC BY 2.0)
Niagara Falls
Niagara Falls is one of the most romantic destinations on the planet. The falls themselves are breathtaking, and the high number of visitors every year means there is a lot to see and do in Ontario. The fact that there are casinos on both the Canadian and American side of the border is merely a happy coincidence. You can enjoy the best of a romantic break and have thousands of slots and hundreds of table games to choose from.
When compromise has been deleted from the dictionary
Maybe you've forgotten an anniversary or missed your significant other's birthday. Whatever the reason, let's presume you have no say in the destination. If you find gambling relaxing and enjoyable, you'll still want it to be a part of your downtime.
Mobile casino
If you're used to a physical casino, then you might not be aware of just how advanced some online casinos have become. Most now offer live games against real players, and some games even use live streaming to add extra enjoyment to your experience. If you're new to online casinos, then you can receive some great bonuses for signing up. However, if you would rather just try the games out first without risking any of your own money, then plenty of them also offer free slot machine games so you can become familiar with them without risk.
Family time
It would be selfish to drag your family to a gambling resort. Besides, a child might eat one of your chips. With this in mind, here are a couple of suggestions that will keep the whole family happy.
Cruise
A modern cruise ship caters to the needs of just about everybody. As well as getting to explore different locations, the ships often have a multitude of restaurants, casinos, cinema screens, and kids clubs. You're guaranteed to find something suitable for everyone, regardless of age or interests.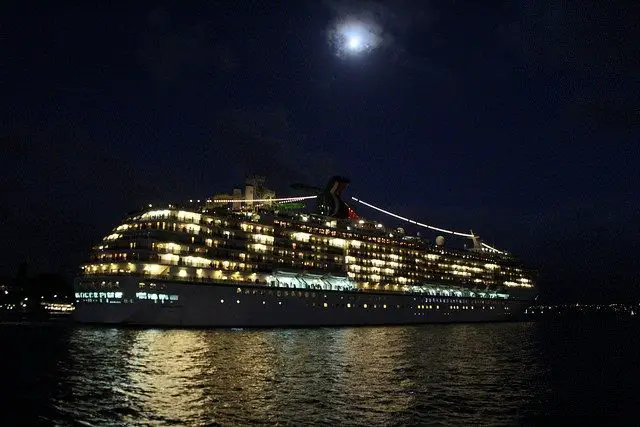 'Cruise Ship – John Cooke via Flickr (CC BY-SA 2.0)
The Bahamas
With the appeal of a tropical destination, the Bahamas can offer a great location for the whole family. You can have water sports, world-class beaches, and a load of restaurants to choose from. It also just happens to be home to the world's second-largest poker tournament (try your luck on, Tuanpoker Situs Poker Online Terpercaya) and a huge 7-acre gambling resort, but you might want to keep that under your hat for now.
Hopefully, these will give you some inspiration for possible destinations other than Las Vegas or Atlantic City.