If you are planning a trip to the Big Apple, then you are up for a treat. New York is filled with things to do, places to visit, and cultural diversity. No matter how long your trip is, you won't be able to explore everything in the "City That Never Sleeps". Read on to learn about 7 places you certainly don't want to miss while you are in New York.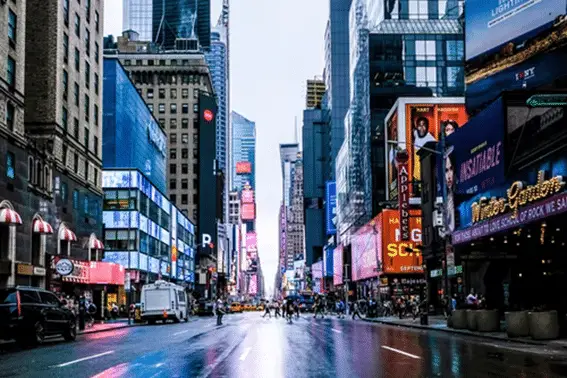 Brooklyn Bridge is seen in countless movies and it is a distinctive landmark in New York. you can take astounding images for your Instagram starting from the Brooklyn side and all the way to Manhattan. You can walk the bridge easily and the views are beautiful. The Manhattan side is a little bit more crowded than the Brooklyn side. Make sure the weather is clear to enjoy the sunset on Manhattan's skyline.
Exploring this theater district is extremely fun as it houses over 40 Broadway theaters. It is not a surprise that New York offers some of the best live plays in the world. You can find any type of show you are interested in whether it is a musical, long-running classic, or a smash hit. Broadway is a magical place that will make you travel to new worlds. However, the tickets may be quite expensive, but you can find ticket discounts in tickets booths or online.
No matter what season it is, Central Park is a must-go if you ever visited New York. You will enjoy the blossoming trees in the summer along with the sun, the breathtaking colors of fall, the snow, and skiing in winter. You can have a walk in the Ramble, picnic in Sheep's Meadow, or go skating at Wollman Rink among various activities around the park. You should avoid rainy days as you will not be able to enjoy and have the best experience of Central Park.
The most famous crossroads on the planet is without a doubt Times Square. To feel the essence of the Big Apple, you must go to this life-buzzing place. The beating heart of New York isn't only filled with things to do, but if you are not sure about what to do in New York, you will be able to figure it out when you visit Times Square. The flashy billboards and the live performances will give you the energy of New York right away. There are various places to visit and food to try in Times Square.
What is better than watching the whole city in front of your eyes? Nothing! There are several observation decks that will allow you to watch New York's urban skyline such as The Empire State Building, Top of the Rock, and the One World Observatory. You don't have to visit all of them as the experience can be redundant and expensive, choosing one is enough. The Empire State Building is the most famous one, but if you want to see this building while enjoying a city view, you should opt for Top of the Rock as it also has a nice view of Central Park.
Chinatown and Little Italy
As mentioned before, New York's diversity is unparalleled. You can experience different cultures in the same city by visiting Chinatown and Little Italy. These neighborhoods transport you to their respective cultures. You can enjoy Chinese food, decorations, medicine, and more when you enter Chinatown. The best part is that Little Italy is within a few blocks from Chinatown, so you can explore their delicious Italian food such as pizza and pasta. You can explore the two fascinating neighborhoods on the same day while having time to do other stuff as well.
Metropolitan Museum of Art
New York is filled to the brim with amazing art and history museums. It is tough to choose between the American Museum of Natural History and the Metropolitan Museum of Art, but the latter stands out as it is the largest museum in the US. It has over 2 million works in its permanent collection while some exhibits show other works that are worth discovering. You can watch the art and culture in this museum with a pay-what-you-will fee which will not break your budget.
Though these 7 places you shouldn't miss while visiting New York, the city has a lot more to offer than you can't explore in one trip. However, these places will show you the essence of the Big Apple and why it is a one-of-a-kind city.