A car that drives around 10,000 miles a year gets seen by more than 30,000 people every day. So, why not put a custom car wrap with an advertisement for your brand on it? Wrap advertising is a cost-effective and non-intrusive way of advertising your brand and products, says New York Banner Stands, a reputed large format printing service that offers Car Wrapping Services in NYC.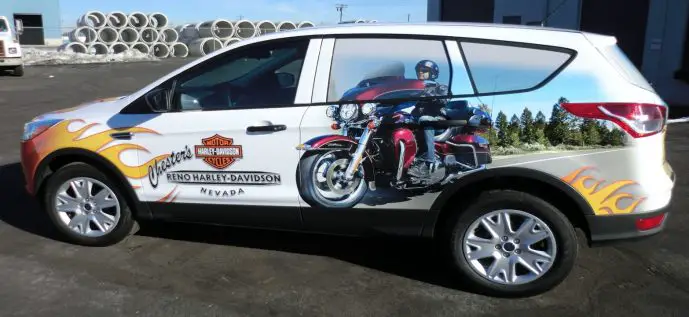 Benefits of Wrap Advertising for Small Businesses
Small businesses can benefit a great deal from vehicle wrap advertising. The low-cost nature and broad reach of this advertising medium makes it an ideal fit for their marketing campaigns. Moreover, branded vehicle wraps make the company seem professional since consumers generally assume that a company using wrap advertising has been around for some time.
Most people prefer to do business with familiar names. Therefore, a television commercial for a new brand might not have a major impact unless it is very unusual. However, with car wrapping advertising, such as that available in NY, new and up-coming brands can gather many eyeballs, as the vehicle drives through the city. So, the products get advertised in a way that doesn't distract people from their routine life and without even knowing it, they become familiar with the brand name.
Another benefit of advertising via custom car or truck wraps like those in NYC is that the advertising offers higher long-term return on investment. A custom wrap is cheap and can last more than five years. On the other hand, a TV commercial costs thousands of dollars, regardless of whether it converts or not and runs only temporarily.
Tips on Marketing Using Car Wraps
Your business' name should be clearly visible, even from afar. The goal is to create recall value for your company's name and logo.
Clearly mention what your company does, in case the name itself doesn't make this clear. Images can also help emphasize your company's offerings.
Don't clutter the wrap with information. Keep the message short and crisp, something that is catchy and likely to be easily remembered. Too much information will only confuse the viewer.
Make sure you have an attractive website and mention the URL on the wrap, so that people can learn more about the business at their leisure.
Make sure the company's name and logo is printed on all sides of the vehicle. This will ensure that the advertisement is visible from all angles.
Use bright and bold colors to attract attention. But, make use of 2-3 colors only to best results.
Choose a design and font that is consistent with your branding across all channels. This will make your brand easy to recognize.
If you're a small business owner in NY, looking for a cheap and powerful way to market your products, then car wrapping services, such as those in NY, can help you implement an effective marketing campaign that maximizes your reach within your target geography.