Casual style is the way men express their personality through clothes. Wearing casual clothes doesn't mean wearing the first thing you see in your wardrobe. It is essential to look sharp while feeling comfortable in the clothes you are wearing. There are no set rules for what you should and shouldn't wear when it comes to casual clothing, and that's what makes casual style extremely personal. However, there are things that simply don't work out that you should avoid. If you haven't figured out your casual clothing style yet, here are some guidelines that you should follow to identify your style.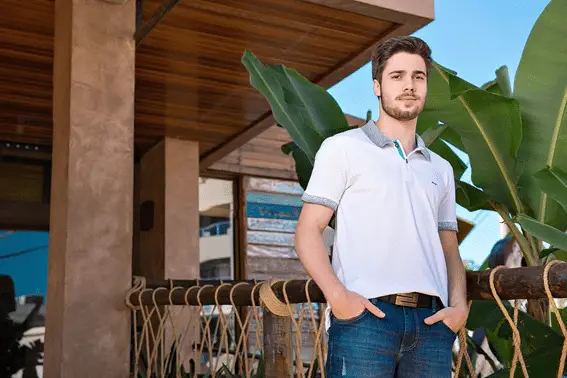 Start With the Essentials
Think of your wardrobe as a construction site; you can't start with the flashy decorations first. You first need to put in the basics that will allow you to mix and match outfits easily. Every man should own the essential items that will never fade away as fashion trends come and go. When buying your classic and essential clothes, always look for quality before price. You should invest in your wardrobe building blocks as they will be used more frequently than any other piece. The essential clothes you need include:
Denim jeans: needless to say they are used with almost all casual fits.

Casual T-shirts: especially basic T-shirts in black or white. Once you get the basic colors you can explore more colors and patterns.

Polo shirts: they are more formal than casual T-shirts.

Casual shirts: similar to T-shirts, start with neutral colors and build your way up.

Chinos: wearing a shirt on chinos will transform the outfit completely.

Casual jackets: jackets will stay in your wardrobe more than any other item, so you must have a casual jacket.

Hoodies: they are great for keeping you warm during winter while keeping your casual look relaxed.

Casual footwear: sneakers, desert boots, boat shoes, and loafers are all excellent choices for casual footwear.

Bermuda and cargo shorts: wearing them depends on the weather and the occasion, so make sure not to wear them out of context.

Accessories: watches, belts, and wallets make for the finishing touch to your outfit.
It Must Fit Perfectly
The fit can make or break any outfit. A loose fit will make the outfit look sloppy while a very tight fit will make it look as if you are trying too hard. For basic items of clothing, make sure they fit your body perfectly to look good. 
Typically, some clothes are made to be loose or tight, but they are the exception, not the rule. If you are not sure, you can click here to find how to find the best fit for your clothes. When you are shopping for clothes, try the size of clothes you think fits you perfectly then try one smaller and one bigger. You may find that another size looks better on you. If you can't find your fit in a store, check out other stores. If you still can't find the right size, you can visit a tailor and get the best fit for your body.
Spice Your Outfits Up With Statement Pieces
All the items discussed above are considered the backbone of your casual wardrobe, but to show off your personality, you need statement pieces. If you ever encountered a piece of clothing that is patterned, has bright colors, or anything out of the ordinary while shopping, know that it's called a statement piece. These pieces will transform your look completely and will be the center of attention. While statement pieces bring an outfit to life, too many of them can ruin your whole look. You should stick to only one statement piece as you should keep things simple while wearing casual clothes.
Accessorize
Accessories are not just an optional addition to your outfit, they are an integral part that will elevate your look dramatically. You must stick to neutral colors when it comes to accessories such as belts and socks. The watch is a must for any man, your wrist must be decorated with a stylish casual watch that can go with any outfit. Other accessories you should invest in are sunglasses, hats, backpacks, messenger bags, and wallets. However, you can drop any of these if they don't match your personality.
Fashion trends affect the casual style, and while you can follow these trends, you shouldn't let them dictate your choices as they go out of trend just as fast as they came in. The simplicity of the casual style for men is what makes it easy to mix and match pieces of clothing. Build your wardrobe starting with basics, then explore your options and get clothes that match your personality.