It is said that becoming a mom is a new birth for a woman. Indeed, she goes through a lot of pain and hardships to bring the little bundle of joy into the world. If you were ever a new mother or have seen one closely between all the sleepless nights and unbearable pain, a new mother wants nothing more than a few hours to herself where she can relax. However, when a baby is a few days old and needs its mother constantly, this is not possible, so all the friends and family can do is get the new mother a gift that will cheer the new mom.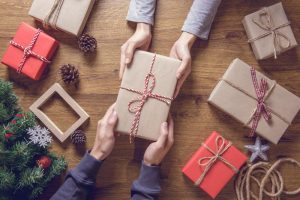 While everybody who visits the new baby buys something for the little one, the new mother is often ignored. The changed body and the wreck of hormones make her feel that nobody cares for her. Below is a list of things you can get the new mom to make her feel appreciated and cared for.
Jewelry 
While jewelry is something the new mother must already have, it is time to get creative and gift her a customized necklace with a picture. You can choose to have a photo of her with her baby in the necklace, and she will surely be overwhelmed with this beautiful gift. A look at this, and she will forget all her pains and hardships, and a beautiful smile will come on her face. The 3D picture will look no less than real, and the mother can wear the necklace daily and feel connected with her child.
Hot water bottle
Childbirth can be painful, and recovery can take time. A hot water bottle can give a little relaxation to the new mother and make her feel comfortable. You can also gift your loved one an electric water bottle, which means there is no need to get up every time to fill the bottle with hot water; instead, plug the bottle in, and it will heat in no time, which will make preparing
baby formula
a lot easier. This bottle also soothes difficult period cramps.
A comfortable robe
For a few weeks post giving birth, the mother would not like to wear anything other than a robe. And with the child's spit-ups and the various stains, the more robes she has, the better. The robe should be comfortable, modest, and of good quality, so the mother can be in them the whole day if she wishes.
A gift card
Many new mothers get insecure in their bodies and avoid shopping for long since they think nothing will look good on them. But if you gift them a gift card from their favorite store, they will have no other option left than to buy clothes for themselves and feel confident and desirable again.
Offer help
Your time is one of the best gifts you can give a new mother. If you are someone close to the mother and have time on your hands, then you should offer to help her with other things related to the house so she can focus on caring for her baby.