Many of us who have a daily commute are constantly looking for eco-friendly ways to travel. After all, you will find that it's a lot cheaper and hassle-free to make environmentally conscious choices. One way you can ensure you don't endure the hassles of a vehicle or the cost of daily travel is to invest in an e-scooter. An electric scooter is not only a convenient means to travel, it is also fun, affordable, and with the right gear, safe. So to help you purchase the right scooter for you, consider the tips from this buying guide.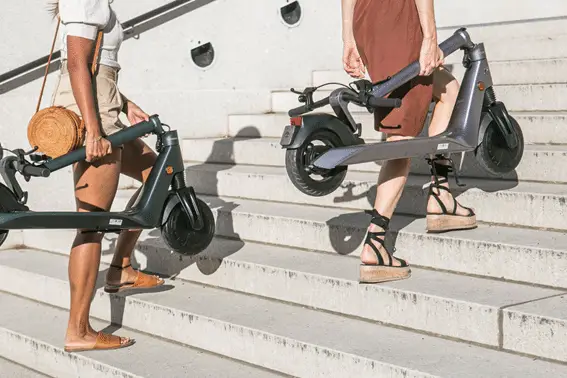 Budget
First, you must determine your budget as there's no point in shopping for scooters outside of your price range. Keep in mind that different brands and models will vary in cost. So, it may be a good idea to do some research on the different brands first. Reviews are your friend when gauging the convenience and functionality of a model. Note that the price of an e-scooter is not directly proportional to its efficiency. You can find amazing scooters at an affordable price. Some can cost under $300 and some can go up to $2500. It all depends on your budget and preferences. 
Miles per Charge
It's really important to know about a scooter's battery life before you invest in one because this determines how long you can travel until it needs to be charged. Always ask about the miles per charge to know the distance your means of transportation can take you. Otherwise, you may be left with a scooter that doesn't take you very far even on a full charge. Other things to consider are how long it takes for your scooter to be fully charged and whether the battery pack is portable. This determines how convenient a model is. 
Motor Power
The general consensus is to purchase a scooter with a minimum of 250 watts of power. This motor power is sufficient enough for daily commutes on mostly flat ground. However, the reviews at https://www.escootersstores.com/products/d-10x-long-range-50-mph-electric-scooter recommend looking into a stronger motor power or dual-motor if your commute consists of many small hills. Keep in mind that steep hills require a powerful motor. 
Maximum Speed
Speed should not be at the top of your priorities when purchasing a scooter as you want to follow all safety road rules. However, you should ask about the maximum speed of a scooter to be aware of your machinery's capabilities. Different models will offer different speeds, but make sure that you always consider the weather conditions when testing out the speed. 
Weight
There are two things to consider here: First, the weight of the model to ensure that it's portable and not a hassle to carry around, and second, the weight your scooter can carry. Some models are not sturdy enough for heavier riders and some scooters aren't light enough to be carried up the stairs. 
Brakes
There are 4 types of brakes that you need to familiarize yourself with before choosing a scooter. These are foot, disc, drum, and electric or regenerative brakes. Understanding the different types will help you select the right e-scooter for you, so this may require some research on your part. You will find that many electric scooters have disc brakes as these tend to be the most reliable. However, since electric brakes don't require much maintenance, foot brakes are also highly effective. It comes down to which brakes are available on the model of your choosing. 
Tires
E-scooters offer two types of tires: airless or pneumatic tires. Pneumatic tires may require more maintenance than airless tires, but they also provide more shock absorption. On the other hand, you can find a few models with airless tires that are made of rubber and ventilated for shock absorption. 
Lighting
Lighting is a necessity on any scooter for safety reasons. You need good lighting built-in and can even buy additional lighting. Luckily, the best scooter models offer good front and rear lights. Some models offer LED headlights and taillights with high brightness. Make sure you always have sufficient lighting when riding after dark.
You do need to consider all the features in this guide when choosing the right e-scooter for you; naturally, some features will be more important to you than others.  Make sure that, when choosing an electric scooter, you understand all these features and their uses. Once you have handled the necessities, you can then focus on the fun parts like selecting the design and making sure the controls are easy and customizable. Finally, make sure that you have a warranty you can rely on.