Over the past year, one of the most advertised and widely discussed dog hammock car seat covers has been the Owleys Travel Buddy. And besides the many who bought it, there are still many who haven't and are not sure if it's worth the money.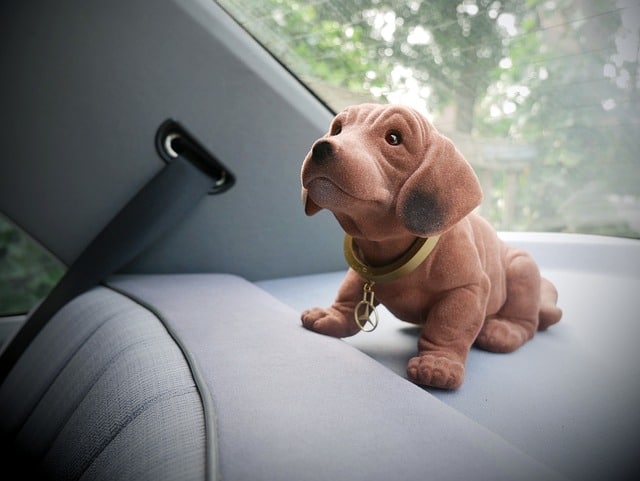 To dispel all myths, we bought this car dog hammock and tried it out. We carefully read what is advertised and compared it to what you actually get. So in this article, we'll take a closer look at the features of the Travel Buddy car dog hammock and share its pros and cons with you.
Waterproof
Owleys advertise their backseat dog hammock as completely waterproof, perfect to use as a puppy or active dog car seat cover. That means if your puppy makes a sudden "surprise" in the car half way to the dog park, the Travel Buddy car dog hammock will leave your upholstery perfectly dry. And if your dog was jumping in the puddles right before getting into the car, the seats will also remain totally clean. But is it really so?
We installed this car dog hammock in a car with cloth seats and poured two glasses of water over it. We then left the car and came back half an hour later to check if the hammock had really protected the seats from water and left the upholstery dry. The top of the backseat dog hammock stayed wet, but the cloth seats underneath did stay completely dry.
The upper layers of this car dog hammock are made of 600D Oxford fabric, which really has excellent waterproof properties. Like this, the upper layers repelled the liquid and left it on the surface, preventing from being absorbed further. Water resistance test passed!
Scratchproof
Owleys also claim that their dog backseat hammock has six layers and is scratch- and tear-resistant. Plus, it has sidewalls with hard inserts to protect car doors. Damage resistance is a very important feature as some dogs – especially puppies and newly adopted dogs with no traveling experience – can easily turn a car into chaos.
To test this out, we gave the hammock to a friend of ours who has two 3 month old Husky puppies. These brothers had already torn to shreds a few dog hammock car seat covers, so our friend and his pups became the perfect opportunity to conduct our experiment.
Our friend has been using this car dog hammock for two months. He had 2 road trips to a neighboring state and several dozen short trips around the city. He then returned the hammock back to us so we could check its condition.
The hard inserts in the sidewalls had dents from teeth and nails, but they did not go through and the back fabric of the sidewalls remained intact. The main part that covered seats also had nail marks and scratches, but only on the top layer. While the backside of this car dog hammock had no trace of damage. So, the scratch resistance test was also successfully passed.
Easily washable
Travel Buddy is advertised as a super easy to clean dog backseat hammock. According to the product description, it is enough to use a damp cloth to remove dirty spots.
To test this feature, we let our Goldie have some fun in muddy puddles – and then rest on the surface of the Owleys car dog hammock. We left the stains for an hour and then came back with wet rags to try and clean up the hammock.
Of course, small rags could not deal with large stains. Washing this amount of dirt with a damp cloth would take us several hours! So although Owleys don't recommend machine washing, we unfastened all the zippers and straps, removed the hard panels from the sides, and washed the hammock in the machine. And lo and behold – after drying, nothing happened to it. Except that the pockets were slightly wrinkled.
So, we wouldn't say that washing with a damp cloth works for big stains when your dog is dirty from nose to tail. However, it will be quick and easy when removing smaller stains.
And please be sure to unfasten all straps and zips and remove the hard panels from the sides before machine washing!
Stable fit
As described, Travel Buddy backseat dog hammock has a secure fit and doesn't slip on any upholstery. We tested these features in a 2022 Subaru Outback with leather seats.
Regarding the size, the hammock fit perfectly. But according to reviews on the Internet from different buyers, this car dog hammock is not suitable for all car models. Check the measurements carefully before purchasing to get the right fit.
On a trip with our Goldie, we were watching how stable this backseat dog hammock while on the road. Our dog was actively moving, but the hammock did not slide down or to the sides on the leather seats. It stayed in place just fine and our pet felt comfortable on it. So we can say that non-slip bottom and metal fasteners work as they should. Stability test passed too.
Design
To evaluate the design of the Owleys Travel Buddy, we did not run tests, but highlighted its main pros and cons.
This dog backseat hammock is advertised as the one with a unique versatile design. It has a zipper in the middle that divides the hammock into two parts. So you can use it on the entire back seat or on one side of it to save space.
We tried it and it really worked as advertised. In fact, it's a game-changing feature as it makes the hammock suitable for different dogs and different cars. The only thing that seemed ill-conceived to us was the zipper itself. It starts from the back, which is not very convenient.
Another smart detail that we liked and used is the storage pockets. This hammock has two eco-leather pockets – by the way, contrasting details are also made of eco-leather. The pockets are big enough that we could fit our dog's travel bowl, a comb, a pack of treats, and a walking leash.
Let's sum up our review.
Among many dog hammock car seat covers on the market today, the Owleys Travel Buddy is a really good option that worth its price. This seat cover is waterproof, scratchproof and provides a stable fit. It has a convenient and durable design. And it's actually easy to clean with a damp cloth to get rid of everyday dirt stains. Or you can use machine wash as we did, but before doing so, make sure to remove all the unnecessary. All in all, Travel Buddy is definitely worth a try.