The military are beings who have paid a sacrifice on behalf of a nation or objective. Their main mission, of course, is to defend the interests of the country, but there are many missions they undertake such as rescue operations, medical assistance in impoverished areas, food and humanitarian aid, security in embassies and other places, surveillance in volatile areas, natural disaster , law enforcement, piracy and drug interdiction. The military is also the nation's largest group of international ambassadors. As such, there is a great responsibility on their shoulders. It is not uncommon for many people to select a military-related image to get tattooed.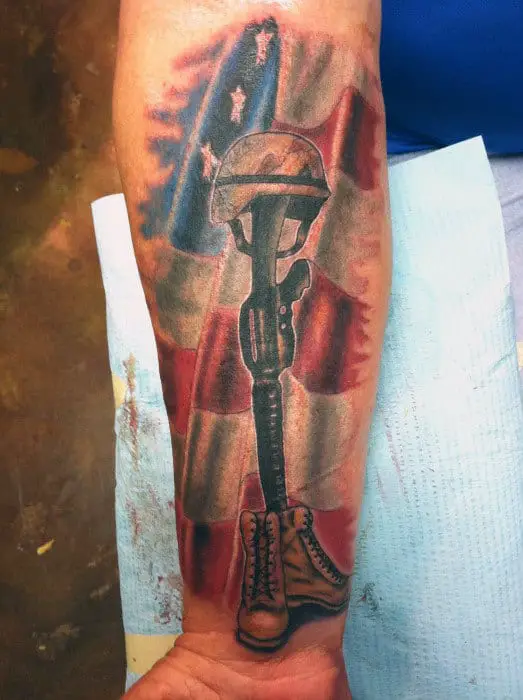 Fallen Soldier Tattoo Designs
Military tattoos are to show respect to those who serve, those who served and those who will one day serve in wars and also to the people who stay, with a lot of patience and uncertainty, waiting at home. Likewise, they are made in memory of people who have fallen in the fight for freedom. Americans love this type of tattoo because they are generally very proud of their army, but that does not mean that there are people interested in this subject in the rest of the world. Most army tattoos will have very clear elements that are easy to identify such as helmets, sometimes skulls, grenades, and more. Also, they have quotes about bravery and memory.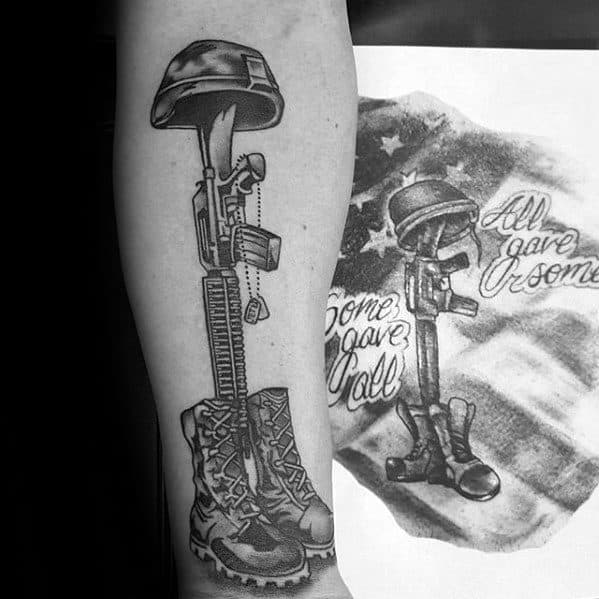 The best Fallen Soldier Tattoos
For their part, from soldiers to airmen, sailors and marines, everyone has a set of popular symbols that they are familiar with and that can be used in tattoos. For example, the Navy soldiers are identified with the anchor, while those of the Air Force tend to have eagles, but also military planes, balloons and even weapons are characteristic elements of military tattoos. For its part, a representative design of this type of tattoo is an Army combat plane that has a scene on a mission.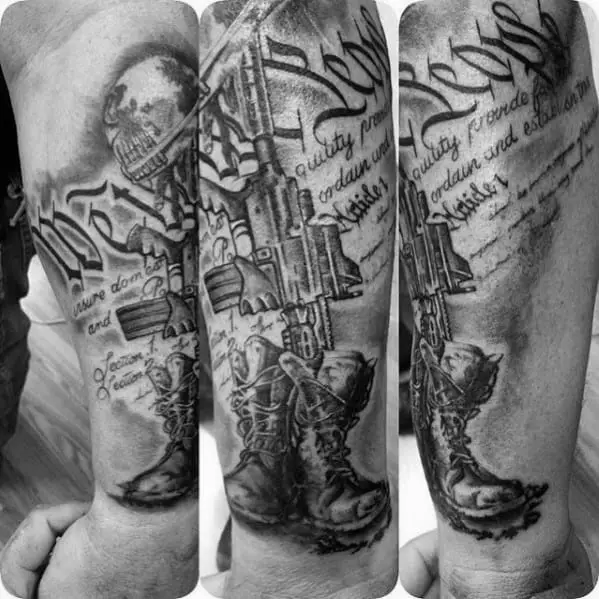 Lastly, military flags have in common a specific emblem that serves as the centerpiece of the flag. Flags such as those of the Army, Marines, Navy, Air Force, and Coast Guard have a unique emblem design and theme, but there are similarities in traditions, power, and strength. So if you're proud of your troops, support them, or just a fan of military art, check out some of these designs. You might find something that catches your eye.