One of the things that many brides are not willing to compromise during their wedding is their wedding dress.  Most of the brides imagine to have a pricey and dreamy gown, but what if you don't have enough budget to spend on a dress that you will hardly wear once? So, whether you are on a strict wedding budget or simply choose not to spend on something that is going to be used only for once, there are many ways you can find a dress that looks great and still doesn't break your bank.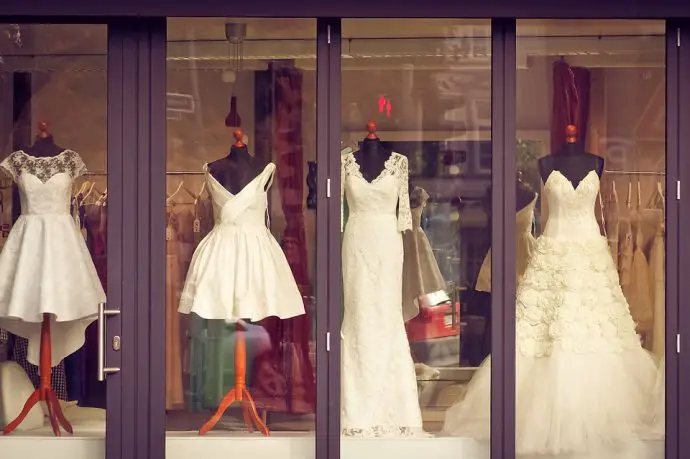 #1 Opt for simple yet decent dress
Choosing a classic, simple dress without delicate embellishments can significantly lower the cost. Look for dresses made with single fabric only like Chiffon or Satin and have minimum embellishments. Some embellishments such as beading and lacing are more expensive. Therefore, avoid such materials and use minimalist accessories to complement your gown and get the appearance you are after.
#2 Borrow from your kith or kin
If you have a friend or family member with similar body structure as yours, then you might consider borrowing a dress from her. Make sure you behave extremely courteous while asking and if they allow you to borrow then make sure you return them as soon as possible after getting it professionally cleaned.
#3 Buy off-season
You can score some great bargains by purchasing a wedding dress during off-season sale. Weddings mostly happen in the spring and summer, so bridal dresses are mostly like to go on sale in the winter and fall months. Many online retailers like Debenhams promotes super deals and offers during this period where you can easily grab a dress of your dreams at a fraction of the cost.
#4 Visit retailers that offer wedding lines
To buy a wedding gown, you don't necessarily need to visit a boutique that has its dedicated wedding range and prices. Instead, you can check with retailers that offer wedding lines. Many clothing retailers have added bridal dresses to their collection with significantly lesser prices than boutiques. However, they may not have enough styles compared to a boutique, but it is just perfect for a bride looking for a budget wedding dress.
#5 Consider non-wedding gowns
While looking for a stunning white dress, your choice shouldn't be just limited to the bridal collection. Bridal boutiques know that brides would pay anything to buy their dream dress. Look for non-wedding white gowns which you may find at a price lesser than the half of the bridal dress. Moreover, if you buy a dress that is made for another purpose, it may make you look unique without spending a fortune.
#6 Rent a dress
Renting a dress is also a great alternative to save thousands of dollars. If you have a rental provider in your area, you can head over to the store to see their collection. Or, you can also visit online sites that offer dress rental service. The best thing about rental is you don't have to worry about washing and keeping an expensive dress in your closet that you are rarely going to wear after the wedding.