Ho Chi Minh City is one of the most wonderful cities to visit in Vietnam for many reasons. Only have 24 hours in Ho Chi Minh City? Here are some of the best of what to do in this city in such a short time.
Sightsee around Ho Chi Minh City
Let's begin your 24 hours in Ho Chi Minh City by exploring the center of the city where you can find many buildings featuring beautiful French architecture and historical places. There are some places you can visit including:
The Notre Dame Cathedral: an imposing building erected between 1863 and 1880 entirely with materials brought in from France.
Saigon Central Post Office: the largest post office in Vietnam built in the late 1800s. There are vintage phone booths and beautiful hand-painted maps on the walls inside.
Reunification Palace: the home and workplace of the President of South Vietnam during the Vietnam War. Also, there are English and French guides on duty at all times for foreigners. You can visit as long as there are no official meetings or receptions going on.
War Remnants Museum: Outside of the museum are US armored vehicles, artillery pieces, bombs, and infantry weapons. Inside are exhibitions and photos cover the history of the Vietnam War and the devastating effect it had on those involved.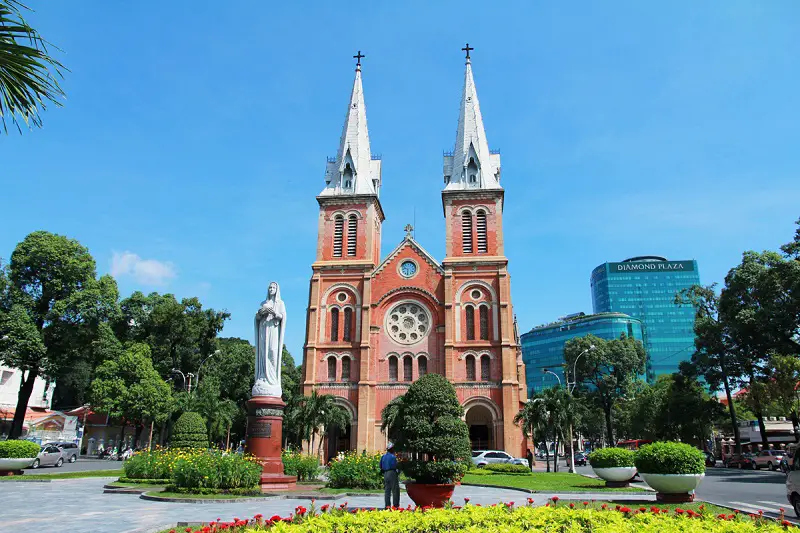 You can discover these wonderful destinations by yourself. Besides, it is interesting to take a slow travel with Cyclo tour. Only sitting on cyclos, you will be taken sightseeing around the city center and take photos of its landscapes; moreover, it has lower costs than other vehicles such as taxis or motorbikes. In addition, choosing one of Ho Chi Minh City tours of any travel agents is also a good idea to know more about this city.
Try street food
Ho Chi Minh City has been listed in the top 10 of world's best street food destinations, and also is one of the famous places for tourists to discover the cuisine of Vietnam. It may be wonderful when walking along the streets in this City and enjoy plenty of terrific street food here.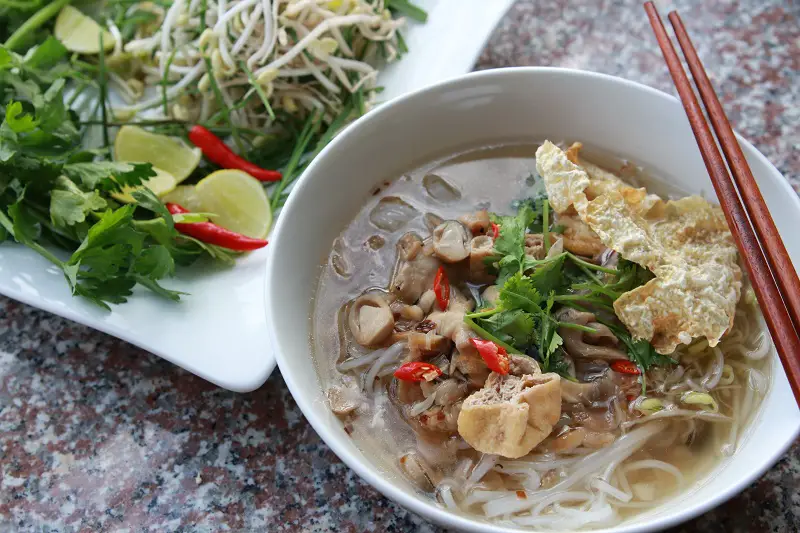 Spending about US$1-2 and you can enjoy a popular tasty dish such as com tam or hu tieu. In addition, Pho is a well-known specialty that you should try once. If you like eating while on the go, you can get a banh mi, a Vietnamese sandwich that you will probably rave about to your friends back home. Moreover, there are also some dishes that make street food unique and different from the other regions of Vietnam such as bot chien, goi kho bo, and banh xeo. And of course, don't forget to try the coffee as Vietnam has a huge coffee culture with various egg coffee, ice coffee, coffee with milk, etc.
Experience the nightlife
While they may not be as bright and shiny as malls or supermarkets, night markets have their own character. It is truly worth a visit. There is an enormous variety of goods on offer there such as clothes, footwear, hats, hair clips, jewelry, and watches. This is an ideal opportunity for tourists to grab some souvenirs and clothes. The prices in night markets are quite affordable and normally cheaper than day markets or supermarkets as the sellers pay less for the rent. There are many night markets in Ho Chi Minh City but two popular ones are the night market on Ky Hoa Street and the one near Ben Thanh market.
Tourists coming to Ho Chi Minh City can eat dinner at night markets or small restaurants along the streets with a variety of specialties while enjoying the evening atmosphere of this destination. Or if you want to have dinner and splurge on a drink at a luxury place with a beautiful view of the city at night, bars in Vietnam's tallest building – Bitexco Tower are the best choice.
Vietnam visa
Please first check whether your country is on the Vietnam visa exemption list. If your country is not on this list or you want to stay in Vietnam more and visa exemption day, a legal Vietnam visa is required to have. There are 3 possible legal ways to get Vietnam visa
Vietnam visa through Vietnam Embassy
This is a traditional way to get Vietnam visa; however, you have to wait for quite a long time to receive Vietnam visa (about 4 to 5 days). For detail instructions, please contact Vietnam Embassy in United States.
Vietnam Visa on arrival with Vietnam-visa.com
If you visit Vietnam only by air, it is easier and more convenient to apply for Vietnam visa on arrival. This way has been popular recently as all the steps to get a visa are done online. You can access our website vietnam-visa.com for applying for visas. After applying the application form, wait for 1-2 days to receive a Visa Approval Letter.
Please remember to print this approval letter, Vietnam entry and exit form, prepare 2 passport-sized photos, exchange some US dollar (cash) and bring all of them together with original passport with you as you must show them at Vietnam airport check-in counter for having your visa stamped.
Tips: Check out Vietnam visa for US citizens before your trip
Vietnam e-visa
US citizens who need one-single entry visa with vacation purpose can apply for Vietnam e-visa which will allow you to stay in Vietnam no more than 30 days.
Ho Chi Minh City is worth to discover. We hope our suggestions above can help you have an amazing time in this city with only 24 hours.