The time will come when many people working remotely will have to return to the office and that includes you, mama. If quarantine has you feeling a little too comfortable at home, you might need to prepare for lots of people time at your workplace. The following can give you an idea of some of the ways you can prepare.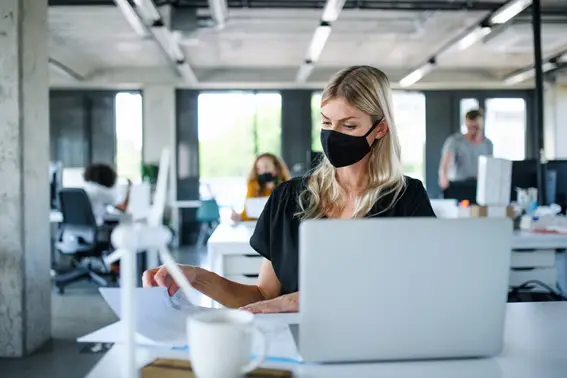 1. Give Yourself a Makeover
Giving yourself a makeover can help boost your confidence when it comes to your physical appearance. Quarantine might've wreaked havoc on your self-care routine so now it's time to get back into the swing of things and give yourself a whole new look. Get some new makeup, start taking better care of your skin, and get back into the habit of exercising so you have all the energy you need for work.
2. Refresh Your Wardrobe
Quarantine changed us — and in a lot of ways, for the better. If you're someone who embraced lockdown as a way to eat healthier and get fit, chances are your old work clothes won't fit quite like they used to (hallelujah!). If that's the case, now's the time to start shopping for a new work wardrobe. Focus on getting several high-quality, well-fitting pieces rather than a plethora of cheap shirts right off the rack. Choose items all from the same color palette so you can mix and match without too much effort. Aim for a tailored blazer, two or three slender-fitting slacks, a pencil skirt and five blouses. Don't forget about getting something nice and new for underneath as well. Knowing that you're wearing sexy lingerie — which you can find at stores like 3Wishes — underneath your new professional attire can be your little confidence-boosting secret.
3. Take All of the Right Precautions
Going back to work means you'll be in closer contact with more people. Even though you'll still be social distancing, there still may be a risk of contracting or spreading the virus. But you can reduce that risk by following all of the policies and procedures set forth by your employer and the CDC to reduce the risk of spreading the virus, such as washing your hands frequently, quarantining when necessary, and wearing a mask that fits properly. Remember that COVID has more than a 90 percent survival rate so even if you do contract it, you have a high chance of surviving it.
4. Take Care of Your Mental Health
While COVID may still pose somewhat of a threat, despite rising cases, some employers are reopening their doors and allowing employees to return to the office. But for some people, that thought is more than a little scary. That's why it's important that you take care of your mental health once you get back to work. It'll give you the confidence and the strength to face the day with ease knowing you're fully mentally prepared.
5. Boost Your Immune System
If you're worried about contracting the virus when you go back to work, boosting your immune system should help ease any fears you have. When you boost your immune system, you help decrease the chance of severe sickness. So eat healthy foods, exercise, and take an immune system-boosting supplement (like an elderberry supplement) to help keep you in good physical health.
Making the Transition Easier
Heading back to the office after almost a year of quarantining and social distancing can prove to be difficult and scary for a lot of people. If you find yourself in this boat, you can use the above tips to help get you through the adjustment period until things get back to relatively normal. So start making the necessary preparations to help you get ready to go back to the office with all the confidence you need to perform at your very best.