Image from pixabay.com
Are you new to skiing and want to find the best place to try ski lessons for the first time? There are so many different places to enjoy in Europe with its fantastic resorts in beautiful settings, like amazing and fun ski holidays in French Alps. But it can be a little daunting when sifting through the places that you are considering. You need to think carefully about what you want to get out of your holiday and how much skiing you plan to do. How do you know which one is the best and what do you need in a resort as a beginner?
What to look for in a beginner resort?
Whether you are the only beginner in your group or if you are a family of all beginners there are certain things to certain when choosing a resort. You will want to find English-speaking ski schools especially if you are bringing kids to help them on their way. Having a range of different activities other than skiing is a good idea as an alternative to your ski lessons. You want these to be easy to get to too. When it comes to slopes you are looking for mostly green and easy blue runs which are wide to allow you to learn and progress.
For easy transport you will want gondolas to the easy slopes rather than chair lifts to make it easier and Chalets with easy access to the ski lifts and ski school meeting points. A pedestrian-friendly resort is preferable as you can enjoy the village when you are not doing activities on the mountain. Lastly, you'll be happy with the feature of an excellent medical centre for your peace of mind. As you can see there are lots of factors to consider, so to make the choice a little easier here are some of the top destinations for those who are new to skiing.
Les Gets, France
This small and pretty village which is popular with families offers a relaxed atmosphere which is great for beginners. The pistes here are easy and you have access to the larger Portes du Soleil ski area too. This means you can stay in a peaceful place but still have the advantages of the larger resort area.
Ski schools include the Ecole Du Ski Francais (ESF) and The Snow Institute which are a good choice and can be excellent value in this area. You can choose flexible hours which is great for beginners because you may not be able to ski all day or even half day every day! Child ski lessons can also be provided here as part of the Mountain Marmots childcare service.
Les Gets is known less for its après ski party but more for the fabulous food. It is famous for its Savoyard cuisine and there are more than fifty restaurants and 14 bars leaving you spoiled for choice when it comes to dinner plans. There is a relaxed atmosphere making it the perfect place to unwind after a day of skiing.
Meribel, Les trois Vallee's, France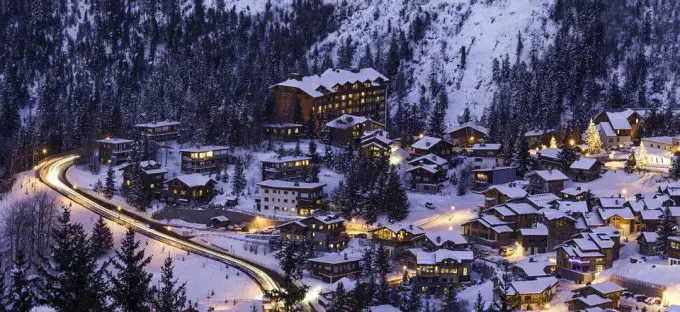 Image from pixabay.com
The 3 Valleys in the Alps is a famous ski destination but you shouldn't let that put you off as a beginner. There are three great resorts here including Courchevel and Val Thorens, however Meribel is the best place to visit for beginners of these three. Of course, you can choose any but you need to think about what is best for you as a beginner.
Meribel has better weather than the other resorts as it is sheltered by the surrounding mountains. Which makes it a good destination for consistency that beginners need. There are also plenty of easy runs here of both green and blues. It is the best place for the easier slopes to begin with lessons and practice.
There is also a pedestrian pass which will get you up to the summits to enjoy the views without having to ski every day, which can be difficult for a beginner. As well as skiing there is plenty to keep you entertained such as dog sledding, snowshoeing, and even swimming at the Olympic centre. Even if skiing ends up not being for you, you can enjoy lots of other things to do in the three valleys.
Tignes, France
Tignes is made up of a few different villages within the mountain range and has some of the best lift accessed slopes in the world. The skiing here is varied with plenty of choice large and excellent for beginners. There are also snow parks where you practice your skills after your ski lessons. Popular with couples and group visitors.
Villages include Val Claret which has access to the high glacier, Tignes Le Lac which is the most convenient and great for beginners to stay and further down the mountain side are Tignes Les Boisses and Tignes Les Brevieres. However, wherever you stay you will have access to a range of slopes to learn, which are great for all abilities including beginners.
When it comes to après ski, you will find Tignes lively and fun and you will be in the heart of the action if you stay in Le Lac or Val Claret. The food is great and there are plenty of bars and clubs to choose from opening until late. Tignes is the best place for beginners who are looking to learn to ski and enjoy the after party too.
Zermatt, Switzerland
Image from pixabay.com
As one of the highest European resorts, Zermatt Switzerland is a beautiful and popular place to stay. If you are looking for an excellent beginner ski resort with spectacular scenery then Zermatt is a great choice. You will find a lovely traditional Alpine atmosphere with everything you need from a modern resort.
Found at the foot of famous Matterhorn peak, this friendly resort is completely car free which makes it even more enjoyable to visit. The village has plenty for its visitors to enjoy, there are boutique shops, varied hotels and amazing restaurants as well as lots of additional things to do. There are also plenty of Ski schools to choose from and there are private and group lessons from professional instructors. If you are a family of beginners you will be happy to know there are those that specialise in children and families.
Zermatt is also known as a lively and fun place for après ski. There are plenty of places to have fun after your day on the slopes and some of these are straight from the pistes. When it comes to nightlife, it is best for couples and groups who want to play hard.
Which European destination will you choose as a beginner skier?
There are so many places to enjoy in Europe when it comes to skiing. From the French Alps to Italy, Switzerland and beyond whatever your skiing skills you are spoiled for choice in Europe. However, there are certain places that are more favourable to beginners than others. Choose the best destination for you and your party and get ready for an amazing beginning to your skiing adventures. Where will you choose for your first skiing holiday?