The most expensive hotels with spas in the world allow you to enjoy luxury travel experiences focused on well-being and health care. Located on the five continents and in all possible climates, these hotels add a bonus to the trip. The assurance that we will be pampered, that we will be cared for and that we will return with charged batteries. Sometimes they are also hotels with a Michelin Star restaurant, others are luxury lodges or resorts ideal for skiing. We can also find it in urban hotels, such as in the best hotels in Paris (France) or in Madrid, one of the cities with the most offer.
We have made a small selection among the best hotels in the world, looking for different types of spa to bring you seven unforgettable options.
Hotel Eurostars Madrid Tower – Madrid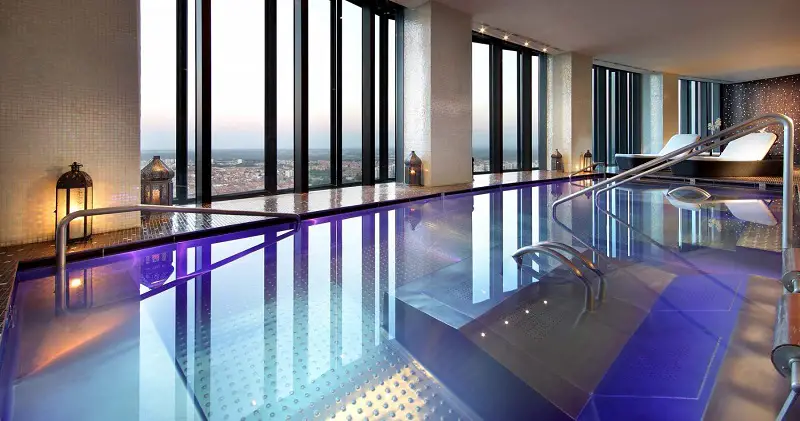 Among the luxury hotels with spas in Madrid, the Eurostars Madrid Tower has a prominent place. Both for its characteristics and for its location. Located in the SyV Tower, one of the Four Towers of Madrid, 236 meters high, allows you to enjoy spectacular views. Its spa, called Spa & Health Club is located 120 meters high. From there, and while enjoying the thermal circuit, you can see the entire city, including the Plaza Mayor or the Sierra. A way to have spectacular views, very different from most thermal circuits that do not usually have views or are found underground.
With a maximum capacity of 8 people, the thermal circuit allows you to enjoy all its facilities with privacy and comfort. Also their massages, facial and body treatments are very worthwhile. If what we are looking for is a romantic experience, this hotel allows adding strawberries with chocolate and a bottle of cava for two, making it a perfect experience to celebrate an anniversary. The incredible views and facilities of the Eurostars Madrid Tower are the perfect example that you don't have to go far to enjoy the most exclusive luxury. One of the best luxury hotels in Spain, closer and more accessible than ever.
Delamore Lodge – Waiheke Island, New Zealand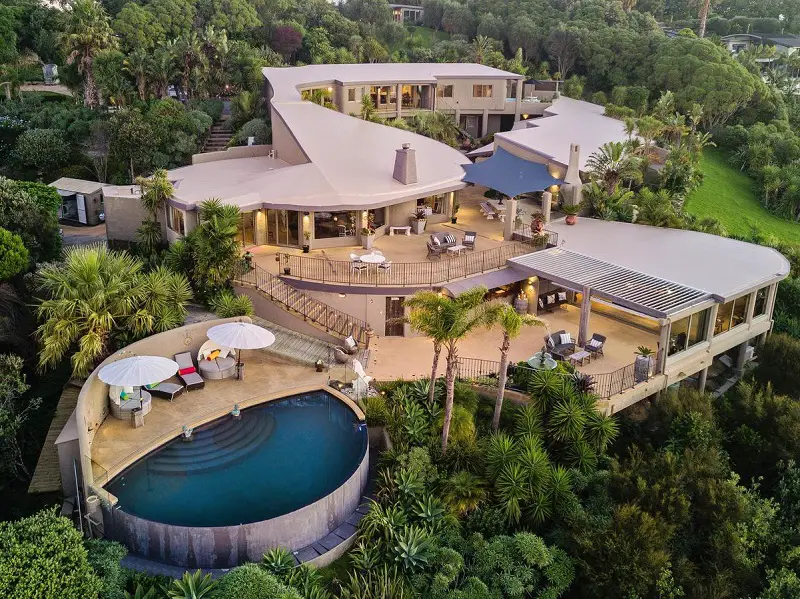 Delamore Lodge is a very small lodge with only four suites and two apartments. Located on Waiheke Island, opposite the city of Auckland, its natural environment is impressive. It takes just 40 minutes by ferry but it will seem like you are in the middle of nowhere. This lodge has taken advantage of its location to create a perfect space for relaxation. Each of the rooms has a private patio in which to relax overlooking Auckland Bay.
In addition to the pool, the Jacuzzi and the different spa treatments stand out. It is a spa that is focused on aboriginal culture, being one of the few in the world with this characteristic approach. An ideal stop to enjoy ancient techniques on trips such as our private trip to New Zealand and Singapore or if we want a tailor-made getaway to the antipodes in 2022.
Aman Tokyo – Tokyo, Japan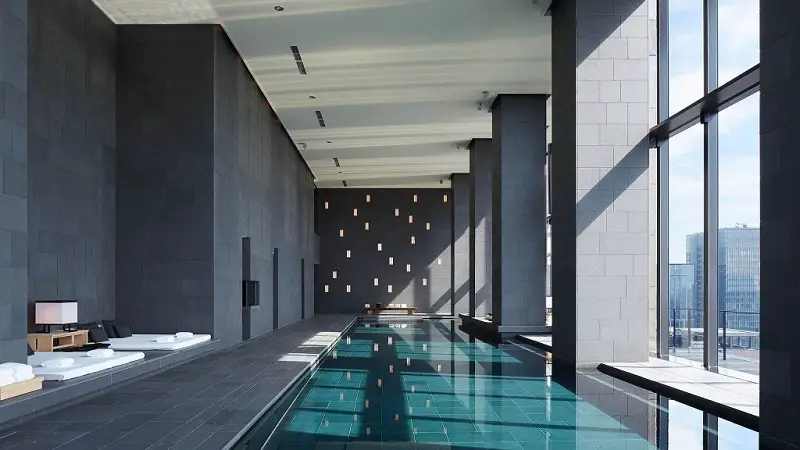 Among the luxury hotels in Japan, the Aman Tokyo ranks highly. Located in a large glass tower, in this case the spa is located on the 33rd floor. That is, three above the Eurostars Madrid Tower. Before our eyes the immensity of Tokyo, one of the largest and most vertical cities in the world. The hotel itself is a combination of tradition, modernity and even nature. Something incredibly surprising for a hotel built in a skyscraper. But for these things Japan is still one of the best trips in the world for 2021.
He will always find a way to surprise you and leave you speechless. From eating in one of its restaurants to meeting authentic geishas. Staying in one of its 84 rooms and suites is a unique opportunity to experience Japanese hospitality. However, its greatest value is the spa, the largest in Tokyo, with a 30-meter pool that stretches out with the best possible views. From the spa you can see Mount Fuji, the Imperial Gardens and the rest of the skyscrapers of Shinjuku, the neighborhood in which this wonderful place is located.
Sport Hotel Hermitage & Spa – Soldeu, Andorra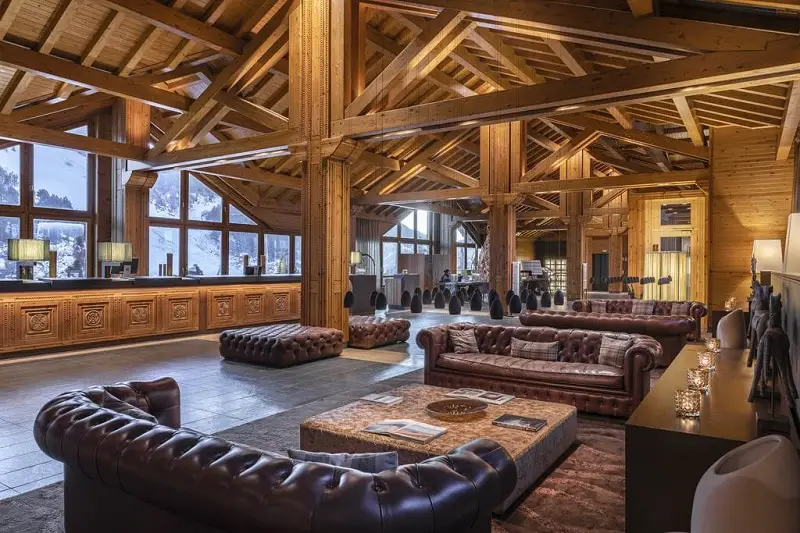 We already recommend this hotel in our article on mountain resort. The Sport Hotel Hermitage & Spa is a wonderful five-star hotel located at the foot of the Grandvalira Soldeu ski slope, in Andorra. Located at an altitude of 1,850 meters, it is much more than a hotel for practicing winter sports. In fact, it is open throughout the year, times when your spa becomes your greatest claim.
The Sport Wellness Mountain Spa has 5,000 m2 of facilities, being one of the largest spas in the world. With five floors, it also stands out for its heated outdoor pool, one of the most beautiful luxury pools in the world, especially in winter when all the surroundings are snowy. With 135 suites and private villas, the hotel rooms have everything you need to relax with views of the Pyrenees after your thermal circuit and treatments. And, of course, it also stands out for its gastronomy. The hotel has several restaurants, but Ibaya stands out. Captained by chef Francis Paniego, who has two Michelin Stars, it offers a true first-rate dining experience.
Viceroy Bali – Ubud, Bali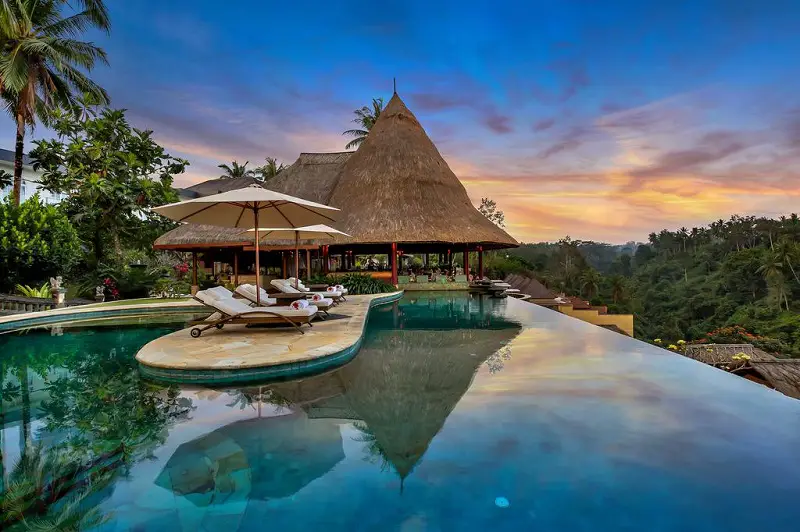 In Bali, luxury hotels with spas are very different and more focused on wellness treatments. Therefore, even if they do not have large facilities, but instead bet on minimalism and personal care, they could not be missing from this list. At the Viceroy Bali hotel, on the outskirts of Ubud, is located Lembah Spa, considered the most luxurious of the island's spas. Located above a beautiful valley with spectacular views of the Petanu River gorge, just a glance is worth it. The different treatments can be performed both in the spa itself and, where possible, in the luxury villa that we have at the hotel. The search for health and well-being combining ancestral techniques and the most modern products are the characteristics of this place, which brings a different concept but also very interesting if we seek to recover inner peace and take care of ourselves inside and out.
Together with the incredible facilities of the hotel, one of the most emblematic luxury hotels in Bali, approaching the Viceroy allows you to enjoy the most authentic Bali, the one in which enjoyment, harmony and care for the senses is the true priority.
Hotel Hospes Palacio del Bailio – Córdoba, Spain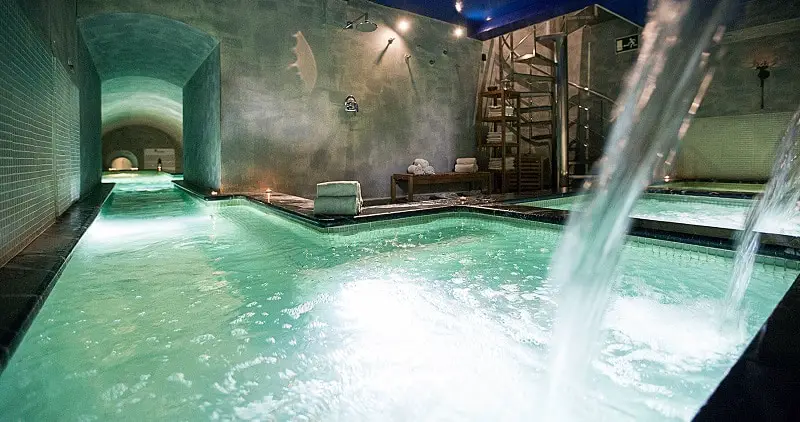 The Hospes Palacio del Bailio Hotel is one of the most beautiful boutique hotels in Spain. Located in a Palace of Cultural Interest in the center of Córdoba, it also stands out for its interior Roman baths and outdoor swimming pool, being the only hotel in the city center with these characteristics. Its spa is called Bodyna and is characterized by having the thermal circuit in underground Roman baths. This journey into history is complemented by different facial and body treatments, waxing and beauty rituals. Beyond its spa and its Arbequina restaurant, the whole hotel is worth it. From its Roman ruins of the 1st century AD. to its Mudejar decoration and its patios full of fruit trees and aromatic flowers.
Visiting the Palacio del Bailio is a journey back to the Caliphate era with treatments reminiscent of the Arab hammans, heirs in turn of the Roman baths that have been reused by this place. If you are looking for a charming place where there is a good hotel with a luxury spa and close to home, this is your option.
Fairmont Château Lake Louise – Banff National Park, Canada
The Fairmont Château Lake Louise is located at the foot of Lake Louise and among great mountains, within Banff National Park, a UNESCO World Heritage Site. This five-star hotel is perfect for winter trips, being a prime destination for skiing and other sports activities. Its facilities and rooms seek the greatest comfort for its guests after doing physical activity.
Its large spa, which has eight treatment rooms, a beauty salon and two manicure and pedicure stations, has also been dedicated to this. Of course, it also has a large pool, steam rooms, and hot tubs for guests. With more than 20 different treatments available, it is a perfect getaway to combine relaxation and adventure in one of the most impressive natural corners of the world. From the same hotel there are several kilometers of trails enabled so that excursions can be made without having to travel. Completely isolated, staying at this hotel is an adventure in itself. Of course, knowing that all our needs will be completely covered.