Reading for fun has become popular again, with a 2020 report indicating that 
one in three people
 are reading more while we're living in a stay-at-home world. Not only are we collecting more books, but these days, we're also creating ideal spaces where we can curl up and relax with a good novel. Having your own reading space may seem like a luxury, but you 
don't have to spend a lot
 to create a place where you can relax and enjoy your favorite pastime. Here are a few easy ways to create a home library.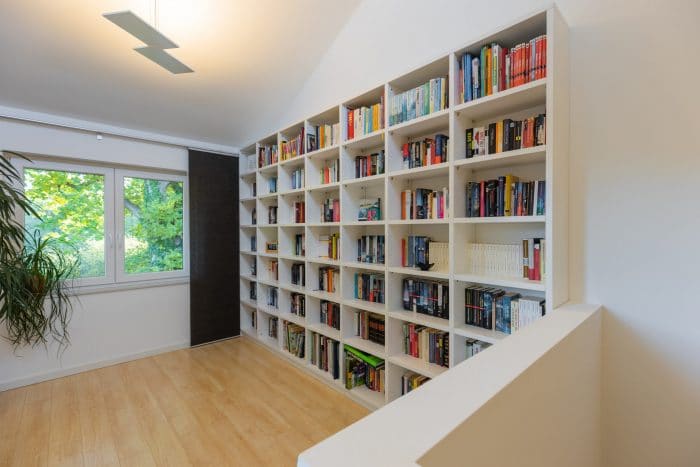 Build a reading nook into your shelving
You don't need a lot of space or an extra room to build your own home library. According to 
Mangum Builders
, you can make changes to your existing décor or customize your home to make your space fit your needs. One way to do this is to build a reading nook into your shelving. If you already have built-in shelves in your living room, create a sitting area in the lower part by removing some of the lower shelves until there's enough space for a nook. Fit a wide, upholstered bench into the nook, and make it extra comfy by placing one or two cushions on it, and you're done. Doing this allows you to 
create a cozy place
 for reading without taking up precious space in your home.
Create a mini library on a stair landing
The stair landing is the perfect spot for a mini library, especially if it has big windows to let natural light in. For a clean and modern look, build some shelves on the wall and paint them white, and then place a neutral rug on the floor. Decorate with a comfy armchair upholstered in a neutral color. If you're more into the dark academia aesthetic, paint the shelves black or stain them in a dark walnut shade; then lay an oriental rug on the floor. Next, add a wingback chair upholstered in dark leather on the stair landing, then place a Tiffany lamp on a side table to complete the look.
Use the space under the stairs
Even a small area, such as the spot under the stairs, can be transformed into a good reading space. Build a shelf under the stairs that can be pulled out like a drawer so you have additional storage for your books. Next, place a cushion over the shelf, along with some pillows to make it comfortable. Add a wall-mounted reading light to your space, and you've got a nice, cozy spot that's perfect for curling up with a good book.
You don't have to spend a fortune to create a reading space in your home. Consider these ideas to make your very own home library, and enjoy spending time in your reading nook.